Leo Goosens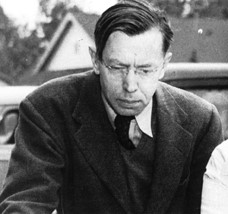 Born in Kalamazoo, Michigan, Leo's family moved to Flint where he grew up. Taking a job with Buick, he soon had the opportunity to work as a draftsman in the racing department where he rubbed shoulders with Louis Chevrolet and Bob Burman.
Eventually moving to California, Leo took a job with Harry Miller and Fred Offenhauser in 1919. By 1920, Leo was making significant contributions to the Miller racing engine. The next year found him designing complete Indianapolis race cars and Jimmy Murphey's 1922 victory at Indy with a Miller 183 engine brought a flood of orders to Harry Miller, Leo then engineered a completely new chassis for the Miller 122 with which Milton won the 1923 Indy 500.
After Harry Miller declared bankruptcy, Leo went to work for Fred Offenhauser, scaling up the 220 Offy to a 225 and in 1934 laid out and detailed the immortal Offy midget engine. Art Sparks had Leo design the engine and chassis for his Indianapolis entry and it broke the track record that year. In addition he designed, laid out and detailed the engine, the entire chassis and four-speed transmission for Louis Meyer and Rex Mays.
In 1940, he co-designed the Novi supercharged V8 engine. All drawings, layouts and calculations were made by Leo in his home and on the same drawing board on which he had laid out the original Miller 183.
Goossen laid out the transmission in 1942 for Lou Moore's successful Offy powered front drive Blue Crown Specials. Leo then spent the war years in engine design for the U.S. Army.
Then in 1946 he co-designed, laid out, and detailed the Novi front drive racecar chassis, which was original throughout. In it's first appearance at Indianapolis, it broke the track record.
When Fred Offenhauser sold his business in 1946 to Louis Meyer and Dale Drake, Leo became the chief development engineer for Meyer & Drake Engineering, the position he held for the 19 years of that firms existence.