Inductees
Next Inductees:
The Michigan Motor Sports Hall of Fame board is proud to announce the "Class of 2019". Ballots were counted just prior to the June 5, 2019 meeting and the following individuals were inducted to the Michigan Motor Sports Hall of Fame on Sunday afternoon, November 3, 2019 at the Comfort Inn and Suites in Mt. Pleasant, MI.
The Class of 2019 is as follows:
Dan Baudoux of Freeland is a multi time champion and Off Road Racing standout.
Ed Cooper of Clark Lake is a multi time winner and champion in the Super Late Model division all over Michigan and the midwest.
Joey Fowler of St. Charles is not only an excellent Engine Builder but is a many time championship driver in all forms of race car on dirt ovals.
Mike Keener of Birmingham is a multiple national event winner and record holder on the Drag Strips of America.
The Late Dick O'Leary of the Grand Rapids area was a championship winning MotorCycle Racer on the famed #34E machine and is also a 2003 inductee to the Motorcycle Hall of Fame in Sturgis, North Dakota.
Drag Racer, Al Turner is the acknowledged "Father of the Funny Car" and was instrumental in turning the altered wheelbase factory A/FX cars into the flip top Funny Car we know today.
The VanHautte family who have campaigned open wheel cars all over Michigan and the mid-west with no less than 7 of it's drivers holding places in the Michigan Motor Sports Hall of Fame.
Pete Weiss of the Frankenmuth area who was another standout and champion in the Super Late Model Division in Michigan and made a strong representation in Florida at the New Smyrna Speedway.
Vicki Wood of Sterling Heights, the eldest of all of our inductees ever. Vicki joins a cast of many at just over 100 years of age and is still active in racing attending cermonies in Daytona Beach at the Famed North Turn. Vicki drove in NASCAR Speed trials for car owners such as Carl Kiekhafer in one of the 300 letter cars and for Ray Fox. She set records on the Beach course at Daytona and at the Atlanta Motor Speedway as well as driving Powder Puff at Jackson, Flat Rock, Mt. Clemens, Motor City Speedways.
Matt Yocum, Morenci native and now Resident of North Carolina. Matt got his start working at Michigan International Speedway selling programs and cutting grass. He later worked in the IROC Series before starting his broadcastin career. Matt is a Pit Reporter for FOX Sports on the NASCAR Cup races. He also Co-Hosts a radio show on the Sirius Network with Kevin Harvick entitled "Happy Hour".
Johnny Benson Jr., son of Johnny Benson Sr. and NASCAR Champion and West Michigan Legend was on hand as well to accept his 2018 induction to the Michigan Motor Sports Hall of Fame.
The full biographies of the above individuals are available to read on this website.
Next Meeting:
The next HoF board meeting will be on April 8, 2020 at Buddies Restaurant located at 2040 Aurelius Rd., Holt, Mi. The meeting starts at 6:45 PM and the public is welcome to attend and observe.
33rd Annual Induction Dinner November 6, 2016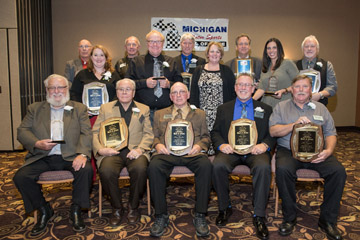 (front) George Keen; Roy Johnson; Larry Knowlton; Rick Beebe; John Vineyard (back) Larry Aldrich; Kristi Carman (daughter of Jerry); Bud Bennett; Jack Gritter; David Hilliker; Tammy Loynes (widow of Larry); Terry Fitzwater (for Bob Jenkins); Jennifer Peters, daughter of of Larry Loynes; Jerry Leonard[/caption] The 2016 inductees included oval racer
Larry Aldrich
, flagman
Rick Beebe
, snowmobile racer
Bud Bennett
, oval racers
Jerry Carman
and
David Hilliker
, speed shop owner
Roy Johnson
, oval racer
Larry Knowlton
, go-kart racer
Jerry Leonard,
and drag racers
Arlen Vanke
and
John Vineyard
.
Wanted: Photographs to copy for inductee biography inserts, and to add to photo pages. Photos can be donated or they can be sent to the address below and they will be scanned and returned on request.