Inductees
Next Inductees:
The Michigan Motor Sports Hall of Fame board is proud to announce some of the 2018 inductees into the Hall of Fame. The ballots were tallied on June 6th and they are oval track racer Traft Abbott, Sr.; oval track driver Johnny Benson, Jr.; sprint car racer Jason Blonde; the late oval track driver and chassis builder Sam Faur; Eastern Michigan oval track driver Larry LaMay; scorer extraordinaire Sue Lincoln; Drag racers Ron Mancini and the late John Gerald Skiba; and world renown Sports Car owners Pratt & Miller; and snowmobile racer Larry Tiede are the new inductees. The 2018 banquet will be on Sunday afternoon November 4 at the Comfort Inn and Suites in Mt. Pleasant, MI. To order 2018 banquet tickets send $35.00 per ticket to: MMSHoF 28047 Maple Forest Blvd E Harrison Township, MI 48045 or call the MMSHoF President Dave DeHem at 586 465-7046 for more details
Next Meeting:
The next HoF board meeting will be on September 5, 2018. The public will be invited to attend the meeting. The meetings are usually at the La Senorita in Lansing located at 2706 Lake Lansing Road.
Sad News:
1991 MMSHoF inductee Benny Rapp died on June 11, 2018. He was 90 years old. Former MMSHoF board member Laura Devlin tragically died in a house fire on 4/17/2018. A special benevolent fund in her honor is being collected, and will be distributed to racers in need. Anyone who would like to donate to this perpetual fund please send a check to MMSHoF, 28047 Maple Forest Blvd E, Harrison Township, MI 48045 1998 MMSHoF inductee Jim Hettinger died on March 23rd, 2018. He was 67 years old. 2011 MMSHoF inductee Marvin Carman died on September 28, 2017. He was 76 years old.
33rd Annual Induction Dinner November 6, 2016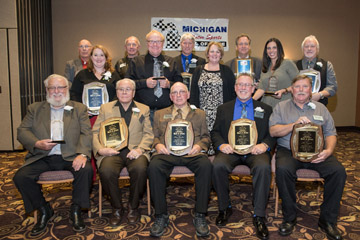 (front) George Keen; Roy Johnson; Larry Knowlton; Rick Beebe; John Vineyard (back) Larry Aldrich; Kristi Carman (daughter of Jerry); Bud Bennett; Jack Gritter; David Hilliker; Tammy Loynes (widow of Larry); Terry Fitzwater (for Bob Jenkins); Jennifer Peters, daughter of of Larry Loynes; Jerry Leonard[/caption] The 2016 inductees included oval racer
Larry Aldrich
, flagman
Rick Beebe
, snowmobile racer
Bud Bennett
, oval racers
Jerry Carman
and
David Hilliker
, speed shop owner
Roy Johnson
, oval racer
Larry Knowlton
, go-kart racer
Jerry Leonard,
and drag racers
Arlen Vanke
and
John Vineyard
.
The 33rd annual induction dinner was held on Sunday afternoon November 6th at the Comfort Inn and Suites in Mt. Pleasant. Special Thanks: We want to thank
Wayne Landon
and
Dave Lehman
for their years of service on the MMSHoF board of directors.
Wanted: Photographs to copy for inductee biography inserts, and to add to photo pages. Photos can be donated or they can be sent to the address below and they will be scanned and returned on request.