Bruce Allen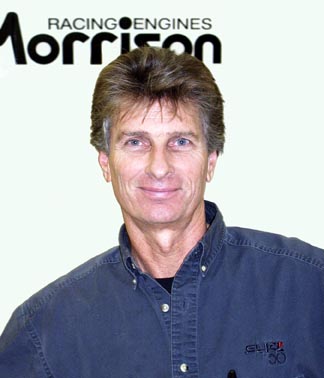 Bruce was born in Goodrich, Michigan July 26, 1950 to Carol and Alfred Allen. His dream began as a 13-year-old reading Hot Rod magazine and being encouraged by his performance oriented auto mechanic father. His father, Al Allen, enjoyed racing and like most young boys, you find an interest in things your father does. Along with his father, 60s Muscle Cars in Michigan fueled my interest. His brother Russell had a fast car and due to the competitive side of me, all he wanted to do was to race and beat him.
In 1968 he started work at AC Spark Plug. At that time he raced a 12-second 1966 Olds 442 in Stock Eliminator. He raced at Tri-City Dragway, Ubly, Milan and Detroit Dragway. He won class and eliminator at all tracks. It was quite a time!
In 1970 Bruce owned and operated a Garage & Gas Station. Along with working at the station, he ran a 1964 Corvette in NHRA Modified Eliminator. Bruce partnered with Jim Hanley in D/MP, F/G, C/G and C/A. Tom Smith's Wolverine Chassis in Romulus, Michigan, built their racecar. In 1973 Bruce closed the garage and went to work as a School Teacher in Auto Mechanics and Power Shop until 1975. This gave him the opportunity to have to the summer off to race. Still racing the 1964 Corvette with Jim Hanley, they won several class championships and won the 1975 NHRA Summer Nationals in Englishtown, New Jersey. They were also runner up in Montreal, Canada and numerous others.
Bruce went to work for McLaren Racing Engines in 1975. He built NASCAR engines for Richard Petty, Coo Coo Marlin and Penske Racing for Rusty Wallace. He was also building engines for Al Holbert's IMSA GTP Monza when he won the championship as well as his grand-am car. This is the time that Bruce became to know Reher and Morrison. He sent a lot of parts to Reher-Morrison for machine work. Like every other Chevy racer, Bruce saw them as his heroes. He was still racing and starting to run Pro Stock in 1983 after he purchased the Camaro that Lee Shepherd had driven to the 1982 Winston Pro Stock Championships. While still working with McLaren, He was privileged to have worked on the Buick V-6 Indy Development Program and built the Indy Pole winner engine in 1985 as he was closing this chapter of his life in Michigan.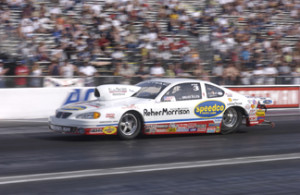 He was given the opportunity to drive and partner with David Reher and Buddy Morrison after the tragic death of Lee Shepherd. So, he sold all of his racing equipment that he had acquired over the years and joined the Pro Stock team. He and his wife Deb moved to Arlington, Texas in 1985. Deb found work immediately teaching physically challenged children at local schools. As for Bruce, he got straight to work with the team. At this time they were running the 1985 IROC Z Camaro. He made his team debut in Atlanta in April and by June had his first professional title at the GrandNationals in Montreal, then the SummerNationals and at the Inaugural Pro Stock Challenge at Indianapolis, an invitation-only event reserved for the top eight drivers in Pro Stock. Bruce had also won the 1985 IHRA Pro Stock World Championship.
Over the years he has had several different sponsors. Hendrick Motorsports, Levi Garrett, Super Shops, Slick 50/Outlaw and currently Speedco Truck Lube. During his continuous adventure with the Reher-Morrison team, Bruce had 16 career wins and 39 career final rounds. His career best E.T. is 6.698 and top speed is 206.08 to date. They are also members of the 6 Second Club and the 200 MPH Club.
Surrounded by factory hot rods in his formative years, he still remains a car nut. He own three Corvettes. He purchased a new Corvette in 1982, a 1986 that is a project car, and a 1999 Coupe. Bruce tries to involve himself in as much as he could. He is a part of the "Make A Wish" foundation, which grants wishes for children with life-threatening illnesses to give them hope and strength. He also visit many children's hospitals in various cities.
In his spare time, he enjoy packing up the RV with his wife Deb and their cats, Ben & Jerry, and traveling. Bruce will still play golf when he can whether he's on the road or at home. While at home he enjoys his Koi ponds and spending time with Deb relaxing.
Bruce Allen feels that he has been very blessed throughout his life and he will never forget those who helped him get where he is today.