Danny Foster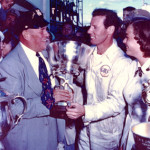 Danny Foster was the first Hydroplane superstar of the post World War II era. He was to the 1940's and 1950's what Bill Muncey was to the 1960's and the 1970's.
He drove unlimited hydroplanes full-time from 1946 to 1955. He continued running the hydros part-time until 1967. He won 14 races during his full-time involvement. He was nicknamed "The Old Pro."
Danny's first American Power Boat Association (APBA) appearance was in 1938 as a riding mechanic "Miss Golden Gate", which finished second at Detroit with driver Dan Arena.
In 1946 he won the Gold Cup in Detroit, Michigan driving the Allison-powered "Miss Great Lakes."
Danny won the APBA Gold Cup in 1947 at Jamaica Bay in New York driving "Miss Peps V" He went on to claim the national high point champion that year in the Dossin brothers entry out of Detroit. The success of the "Miss Peps V" team was evident as they claimed victories in the Detroit Memorial, the Gold Cup, the President's Cup, and the National Sweepstakes.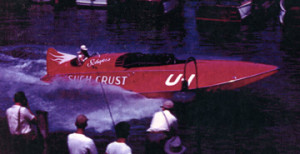 He repeated at champion in 1950 racing the "Such Crust I" and the "Delphine X." He took the Silver Cup win in the "Such Crust " and the Imperial Gold Cup in the "Delphine."
He came back to win the 1952 and 1953 Silver Cups at Detroit with the "Gale II."
He also won the Detroit Memorial Regatta twice. The first time in 1947 aboard the"Miss Peps" and in 1953 driving the "Miss Great Lakes II."
Danny had his best year in 1955 when he dominated the second half of the season with Guy Lombardo's "Tempo VII." He won the Silver Cup (Detroit), the President's Cup (Washington, D.C.), the International Cup (Elizabeth City, NC), and the Indiana Governor's Cup (Madison). He also won exhibition races at Polson, Montana, and New Martinsville, WV.
Danny Foster was inducted in the Unlimited Hydroplane Hall of Fame in 1994.
Danny died on November 2, 2013.