Jim Frankland Jr.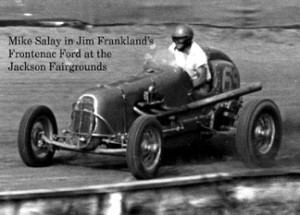 Jim Frankland, Jr. was born in Scotland in 1913. He later lived in Detroit, Michigan. Reflecting on his over 50 years in the sport, Jim said he got hooked on racing when he first heard the roar of champ cars at the old Detroit Fairgrounds in 1926. He said, "I knew right then I wanted to do something in racing."
Frankland built his first race car in 1932 and went on to become one of sprint car racing's top car owners and mechanics, but he is best known for developing a quick-change rear end that set the standards for short track stock cars during the 1950's, 1960's and 1970's.
In 1936, operating out of his shop in Detroit, Frankland crafted a beautiful stagger valve Fronty sprint car, using a 1928 Essex frame and a Ford Model B block. He campaigned the car (and later a second one) at Midwest tracks for nearly 20 years. Several drivers piloted the Frankland sprinters, including Spider Webb, Mike Salay, and Herb Manges.
With purses higher in Florida, Frankland moved his operation to Tampa in 1946. Stock car crews competing on several tracks in the Tampa-St. Petersburg area asked Jim to help them repair and strengthen their quick change units because they were breaking down excessively during competition on the area ovals.
Jim came up with a new rear end design that was so successful that he started building the improved assemblies in a new shop in Ruskin, Florida. In a few years, he was the largest quick-change manufacturer in the world. His company, Frankland Racing Equipment, which employed 38 people at one time, also made brake and front end assemblies. Jim, who retired from sprint car competition in 1954, sold the racing equipment business to two employees in 1985 after 37 years in business.
Jim died on August 19, 2001 at age 88 (1913 - 2001).