Jay Woolworth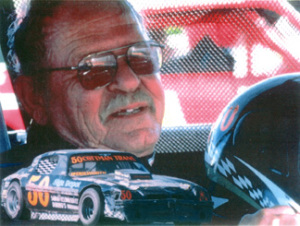 Jay Woolworth started racing in 1957 at the age of 20. He has never kept records of anything, so it's kind of hard to list his accomplishments. He has won more than 150 feature events including four of the Carling's Circuit of Champions races, and three of MSPA races. He says that his proudest accomplishment in racing is winning 17 features in one summer. (He doesn't even remember which year it was.) He ran Super Stocks for many people.
Two of the bigger sponsors he ran for were Stroh's Beer Co. and Carling's Brewery. On May 7, 2000, Jay won a checkered flag at Dixie Motor Speedway. It wasn't so much that he won, as that it made him winning a checkered flag in SIX different decades.
He raced against some big names drivers during his career. Some of them being Cale Yarborough, David Pearson, Bobby Allison, Tiny Lund, Benny Parsons, Ed Howe and Mike Eddy. He has raced just about every track in Michigan at one time or another. He also ran in Indiana, Canada, Pennsylvania and Ohio on a regular basis during his heyday.
In 1981 Jay decided to build cars for youngsters just starting out in racing, but he couldn't stay away from the racing part of it so he built himself a Street Stock to run. During this time he also ran a Pro-Stock and a Super Stock off and on. Jay still races to this day and consistently finishes in the top ten weekly and at the end of the season he's on the stage at the banquet for top ten. The last ten years Jay has won many awards including: 1991 he received the "friendship" award at Dixie Motor Speedway, 1994 the "Family in Motorsports" award, and Jay has won the "Sportsmen of the Year" award countless times, which shows what kind of a racer he really is.
Jay still races to this day and he's still the crowd favorite. He helps the younger guys with their set-ups, tires, and just generally gives them a hand. In 1999 he built five Mini-Trucks for a new division at Dixie Motor Speedway. He put one of his great-nephews, Nick Fleury, in one of these trucks and the kid (just 14- years- old) won the track championship. One of his other trucks finished in 3rd place for the year. In 1994 he put his nephew in a Street Stock and the 16 year old won "Rookie of the Year" honors. In the year 2000, another one of Jay's trucks won the Super Mini-Truck Championship at Dixie Motor Speedway.
Jay has never won a track championship during his 46- year racing career, but he missed a track championship at Dixie Motor Speedway by two points. He has finished in the top ten in final points 20 times. Driver Ted Johnson started out in Jay's barn and went into the final "Main Event" series championship in 1999. Ted is now going on to ASA. It all started with Jay, and he still helps Ted. Jay traveled to Florida with Ted four years and he is invaluable with his knowledge and all the little tricks he keeps under his hat.
Jay is what people refer to as racing icon. Everyone knows Jay and likes him. The racers all know that they can go to him for anything. If he doesn't have it, he will find it for them. There aren't too many people involved in racing that don't know who Jay is. He is a true racer and a dedicated sportsman. In December of 2002 Jay was voted the "Fan's Favorite Asphalt Factory Stock Driver" by the Michigan Racing Scene magazine. He also finished 10th in the Valvoline Cup championship points which included 84,000 drivers from all 50 states. He placed fourth in points for the 2002 season at Auto City Speedway.
Jay Woolworth was born on May 23, 1937. He continued to drive race cars until the summer of 2014, when he retired when he was 77 years old. Jay passed away in May 2020.