Vern "Flip" Fritch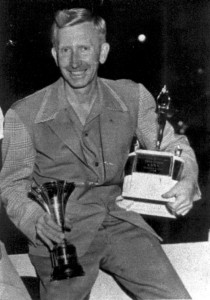 Vern "Flip" Fritch was inducted into the Michigan Motor Sports Hall of Fame in 1982. Flip was born September 26, 1909 in New Lothrop, Michigan. Fritch late settled in Detroit until eventually moving to Florida. Early in life Vern got involved with race and owned big cars, midgets and roadsters. The "Flipper" for awhile operated a racing school in addition to broadcasting on Detroit's radio station KABC.
Having owned race cars since the early 1930's, Fritch was no stranger to the dangers of racing when on October 9, 1949, he suffered a horrible accident at Michigan's Owosso Speedway. Fortunate that he was not fatally injured, Vern was unfortunate to be permanently disabled for the balance of his life. The accident was the result of a blown radiator hose on the race car in front of him, with the other car spinning in his path. Fritch went over the other cars axle and flipped sideways over and over, throwing him out onto the track.
Although physically disabled, Flip's emotions soared as high as the heavens. He went to work helping other disabled racing people by starting the "Disabled Drivers Pool", (DDP). He steadfastly plugged the needs of injured drivers, collected funds and distributed them as needed. So, in place of feeling sorry for himself, he dedicated his life to assisting others in need. The "Flipper" had a favorite saying, "racing takes care of its own."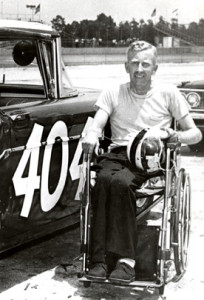 One of Flip's attributes, his sense of humor, manifested his great spirit and he kept on the upbeat. Even though he was confined to his wheelchair, he never would allow other people to assist him around and at one time, Vern held the world's record for a hand controlled car, (100.166 MPH) set at Daytona Beach.
Flip Fritch was also widely known for his writing in several racing papers, including his famous column, "Round and Round." Helping new and aspiring writers break into the racing journalism field was high on his list. Among those he helped in the beginning were Bill Seith, John Darveau, and John Sawyer. In the fifties he was to receive his "National Writers Award" on Detroit's WVTV television station.
Passing away on August 7, 1978 in Riverview, Florida, Vern , who loved dirt track racing was cremated and his ashes placed at East Bay Speedway.