Chuck Gallagher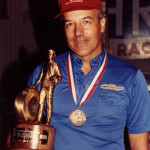 Chuck, born in Syracuse, NY in 1944, began drag racing in 1967 when he took the family 1964 GTO for a spin down a drag strip in Concord, NC. That's all it took and he was hooked. In the fall of 1968, he put together his first dedicated racecar, a 1969 Ford Fairlane Cobra Jet. He raced it successfully for a year in Stock, and later in Super/Stock at drag strips all over North and South Carolina.
It was his hiring as a Chevrolet District Service Rep in late 1969 that took Chuck out the Ford and into his next racecar, a 1969 Chevy Nova. With this car, Chuck raced again first in Stock, and later in Super/Stock. He has since remained in the latter category throughout his racing career. Most of Chuck's racing career has been solo. However, from 1972 to 1979, Chuck partnered with Roy Davis, a local Charlotte, NC mechanic that he was referred to while seeking help with his troublesome Muncie four-speed transmission. Roy fixed the transmission and was impressed with Chuck's talent in a racecar. One day, after helping Chuck to a runner-up finish at the Rockingham Pro-Am Nationals, Roy asked Chuck what he thought would be the best, most competitive racecar. Chuck replied, "A 1965 Chevy Nova Super Sport." They built it in 1973 and the partnership flourished.
They raced their first national event as a team at the fall 1973 IHRA US Open Nationals at Rockingham, and they won. They took the Nova to their first NHRA national event, the 1974 Gatornationals in Gainesville, Florida and won that one, too. They continued racing together, winning five IHRA national events in five years, and placed second nationally among IHRA racers in 1974. They also finished second at a regional regional NHRA event in 1975.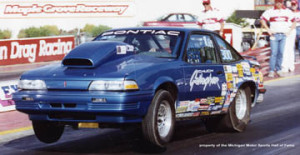 In 1977, Chuck and Roy transformed a 1969 Camaro into the quintessential race car- it looked like a Super/Stocker!...a true muscle car. It would become, a few years later, nearly unbeatable. In the spring of 1979, Chuck was promoted by General Motors to a position at the GM Tech Center in Michigan. At the same time, Chuck knew he could do more with his racing career. He began racing the Camaro fervently in NHRA's North Central Division 3, and traveling to sanctioned events whenever he could. It paid off.
The 1980's were Chuck's peak years as a competitor, placing among the top 10 NHRA Super/Stockers nationally in all but two of the years from 1981 to 1990. He also won three national events and was the runner-up at two others. In 1984, he won the NHRA Winston Super/Stock Drag Racing World Championship title, and was voted the NHRA Division 3 Best Sportsman-categories Driver. At the regional level, Chuck was the North Central NHRA Division Champ three times while winning ten Winston Drag Racing Series points events. He also won the prestigious Popular Hot Rodding Magazine Nationals in 1981 and 1982, along with three other runner-up finishes. Chuck started the 1990's by winning the "BIG ONE," the most coveted drag race of them all, the NHRA U.S. Nationals at Indianapolis in 1990. In 1997, he was still showing his stuff with a runner-up finish at the Gatornationals.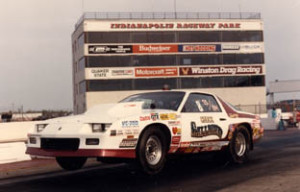 Throughout his racing career, Chuck has established a reputation for being a formidable competitor. Often finishing in the late rounds, he always gives his competitors a challenge, both in the machines he races (always building cars for the fastest classes within Super/Stock, therefore striving to be the fastest car in the category) and in his consistency on the track and at the starting line. Chuck Gallagher will continue to race for as long as he feels like taking his rig to the track, whether it is an hour or several days away. For as long as anyone can remember, it has been "what he does" and as far as anyone can see, racing quick, powerful machines down quarter-mile tracks on Sunday afternoons will always be his passion.