Mike Garvey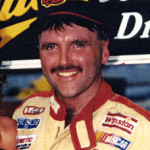 Mike Garvey was born and raised in Muskegon, and has been involved in motor sports all of his life. He was a mechanic for his father's Late Model racecar when he was 11 years old. He had control of all of the tire management. At 16 years of age he went to work at Port City Racing. He has fabricated all of his racecars himself (Sportsman Model, Late Models, and ASA race cars).
Mike started driving racecars in 1980 and won the first race he was ever in. It was at the Ludington Fairgrounds. He has raced at quite a few Michigan Tracks including Ludington, Thunderbird Raceway, Winston Speedway, Berlin Raceway, Tri-City Speedway, Spartan Speedway, Kalamazoo Speedway, Auto City Speedway, Crystal Raceway, I-96 Speedway, Ionia Fairgrounds and Michigan Int'l Speedway.In 1982 he won the mid-season Championship at Thunderbird. The following year he won the Season Championship at Thunderbird.
From 1984 thru 1988 he raced weekly at Berlin Raceway, before moving up to the All American Challenge Series where he was the Rookie of the Year in 1989. The following year he was their champion.
In 1991 he moved to Owensboro, KY and started running the NASCAR All Pro Series. He won the 1992 "World 400" at I-70 Speedway, MO as well as a race in Colorado.
The following year he won the prestigious "All American 400" at the Nashville Fairgrounds in Tennessee and ran a few NASCAR Busch races. He continued his movement upwards as he set fast time at Daytona in the Busch series.
In 1995 he ran with the Hooters Cup Series and won four races as well as two All-Pro races. The next year he won three more Hooter Cup races and was voted as the "Most Popular Driver" on that circuit.
In 1997 he won twice on the ASA series and finished 12th in the final points. In 1998 he won three more ASA races. Then in 1999 he had four more ASA wins. He had five poles and finished the year at fourth in points.
The year 2000 saw Mike winning the "All American 400" for the second time and also he had four ASA wins, and finished fifth in points. The following year he had one ASA win; three poles and finished sixth in points. He finished fifth in ASA points in 2002.
In 2003 he had four more ASA wins and finished 5th in points and was voted the "Most Popular Driver." He also ran one NASCAR Busch race.
Last year he won five ASA races and finished third in the final points.
Mike, who currently lives in McDonough, Georgia, isn't running in ASA in 2005, because of the demise of that circuit, so he has ran selected races including a few NASCAR Nextel Cup races.