Sam Gianino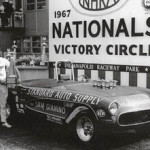 Sam Gianino was born on September 12, 1939 in Detroit, Michigan. He lived in Michigan until 1998, when he moved to Stuart, Florida.
Sam always had a love of cars and enjoyed cruising (and a race now and then) on Woodward Ave. His very first race down an actual drag strip was at Motor City Dragway in 1957. He started his professional racing career after he was discharged from the Army in 1965. He was the driver and engine builder for all of his cars. His last trip down the drag strip was at the 1989 US Nationals at Indy.
In 1967 Sam began building a 1957 Corvette to run in the NHRA D/Mod and C/Mod classes. The following year he won his class at the NHRA Spring Nationals at Bristol, TN. Later that year he won class at the US Nationals at Indianapolis, setting a new ET and speed record. He came back in 1968 to win the Spring Nationals, this time being held in Columbus, OH, and defended his title at Indianapolis, this time also taking the Modified Eliminator title.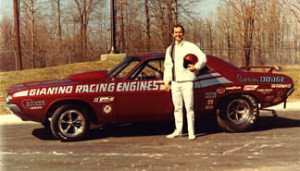 In 1969 he won the Spring Nationals in Dallas, TX and was the NHRA Division 3 Modified Eliminator point champion. The next year he won his class at the US Nationals once again.
Sam opened Gianino Racing Engines in 1970 in Royal Oak, Michigan. He was an engine builder and machinist that specialized in small and big block Chevys. His shop was one of the first in Michigan to have a Cylinder Head Flow Bench for testing cylinder heads.
He changed over to a Dodge Hemi Challenger in 1971 and raced on the Dodge Factory Team. He won class at the US Nationals once again in 1972. The following year he topped the his class at the Spring Nationals, which were back in Columbus, Ohio. In 1974 he began running a Chevy Monza, and the following year he added the NHRA Sport Nationals at Beech Bend, in Kentucky to his already impressive list. He won class during both the 1976 and 1977 US Nationals in Indy, as well as adding a class win at the Winter Nationals in Pomona, California. In 1978 won his class at four Nationals. Spring Nationals, Columbus, Ohio; Summer Nationals, Englishtown, NJ; Grand Nationals, Montreal, Quebec, and once again at the US Nationals in Indianapolis. He was also the runner-up in the Modified Eliminator at both Montreal and Indianapolis.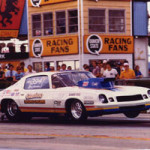 Sam then built a Chevy Vega to run as a Pro-Stock in 1980. He later built a Camaro, and Pontiacs to run Pro Stock. He would qualify well, but he never had the funds to be really competitive against the factory teams.
Over a 23 year period, Sam Gianino set 26 NHRA records and 10 IHRA records. Over the same period he won approximately 200 local races and points meets. He wish he would have kept better records, including all of the wins their shop made with engines built for their customers.
In the last few years of their business, they produced 150 to 200 engines per year. As well as 350 to 400 sets of ported, polished and completely assembled cylinder heads, manifold, etc. During their years in business they did cylinder heads for several NASCAR Teams as well as Off-Shore Racing Boats. Some of the teams included: Lake Speed, Morgan Shepherd, Richard Petty, Jack Roush, Neil Bonnett (who won the Budweiser Shootout in the early 1980's at the Daytona 500 with their cylinder heads and manifold.), Popeyes Fried Chicken Off-Shore Race Boat, and Long Gone (which set speed record in Michigan in the mid to late 80's). In December of 1995, Sam sold his shop and retired to Florida. His current hobbies include playing golf and building classic cars.
Sam and his wife Linda have two children, Joe and Lisa. They have three grandchildren, Joey, Erica and David.