John Anderson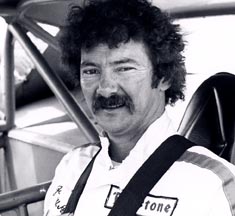 John Anderson developed an interest in oval track racing while attending Flat Rock Speedway, after beginning as an avid drag racing enthusiast. His first race was in the figure 8 division at Flat Rock in 1965. Two years later he won the Michigan State Figure 8 championship. After winning over 20 figure 8 features it was time to move up.
The following year he won both the ARCA and the MARC Times "Rookie of the Year" award while driving Mike Beals' Late Model.
In 1969 he teamed up with Denny McNutt. The next year they had a tremendous season as John won 22 features at a variety of tracks including Flat Rock, Toledo, New Bremen, Shady Bowl, Muncie and Baer Field. He captured his first track championship that year at Baer Field. He left the McNutt team after winning 34 features.
He joined the Stan Yee's team in 1973 and was ultra successful winning 20 features and the track championship at Mt. Clemens Race Track. Some of his wins that year included the Export 200 at Cayuga, ON, the Midwest 300 at Salem, IN, and the Graduation 300 at Hartford, MI.
Running the Yee's Camaro again in 1974 he continued his dominance winning both halves of the Glass City 200 at Toledo, OH. The next year he subbed for ARCA champion Dave Dayton and won a 100 lap new car race at Toledo. Anderson ended the season by taking his third track championship, this time at Toledo. At the end of the year John switched to the Red Springs and Brakes car owned by Fred Swing.
Running for Swing again in 1976, Anderson captured 29 features, winning at such tracks as Winchester, Salem, New Bremen, Toledo, Flat Rock, and Berlin. Two of those wins were ASA features. His fourth track championship came at Indianapolis Raceway Park, IN.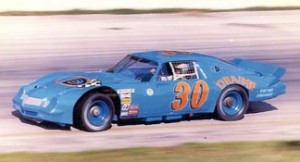 In 1977 he left late model racing in favor of USAC sprints and midgets. John would capture three midget wins in AMRA and ORA races. He then ventured to Charlotte Motor Speedway, NC to compete in a NASCAR Modified event. He sat on the pole, but dropped out of the race.
In 1978 John moved to Ohio and went to work for John Draime to build, race and sell race cars, 22 in all, winning a feature in each one. John would win four more ASA races running his total to six. During the 1978 and 1979 seasons he also won the poles at the NASCAR Modified races at Daytona, FL, and won a similar race at Talladaga, AL. He started his first NASCAR Winston Cup race and finished an impressive fifth at the Champion Spark Plug 400 at Michigan Int'l Speedway.
The next two years he ran several Winston Cup races. He was running third in one of the Twin 125's at Daytona, FL until he had a scary flip. The accident took the toll on John and he retired after the Atlanta 500.
He ended up winning over 200 features in Figure 8s, Midgets, Late Models, ARCA New Cars, and NASCAR Modifieds.
John Anderson, who was a welder and fabricator by trade, was tragically killed in a highway auto accident on August 5, 1986.
John and his wife Mary Ann had two children Jodi and Tami.