Stan Yee Sr.
Stan Yee Sr. was a legendary oval track car owner, builder, and innovator from the 1960's and up until has passing away in May of 2008. Stan will long be remembered for his yellow #33 "Chinese Chariot's" that raced all over the Midwest and won well over 140 feature races with a who's who of drivers over the years.
Stan's initial interest in racing came in the 1960's with his association with Connie Kalitta. Stan worked with and traveled with Kalitta for a couple of years before building aluminum dragster bodies for Logghe Stamping who was one of the first to manufacture rail type dragsters. Stan's fabrication work was so highly respected that one of his bodies was put on display at the World's Fair in Yugoslavia on a rotating display for an entire year.
Stan was also a successful business man and that was shown in the Collision and Glass shop he started and ran with his bother John which still operates today. In the back of the famous collision shop is where the magic happened to not only the yellow #33 but also to many other racecars in the Metro Detroit area. Yee's collision has long been known as a haven for racers needing to get the best parts or the best racing set-up. Many frames have been straightened in the back room during the midnight hours so that a racer could make it back to the track.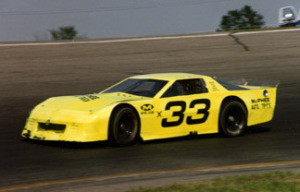 Stan built his first oval track car in 1968 and that car won over 30 feature races between 1968 and 1971. It was during the 70's that Stan traveled all over the Midwest winning races as far south as Florida and in places such as Indiana, Canada, Ohio, West Virginia, and Michigan. The greatest race that Stan won is probably the Marty Robbins 500 in 1978 where the team had fast time and lapped the entire field which included drivers like Donnie Allison, Harry Gant, Dick Trickle and a few others who went on to greatness.
One of Stan's innovations was to put the steering rack from an MG into an oval track car, thus being the first to use rack & Pinion steering on an oval track car. It is now standard practice to have rack & pinion steering in Super Late Models as well as many other types of race cars.
Stan's cars have won races from the beginning and are still winning races in the present day. His drivers represent a who's who of the history of Short Track Stock Car racing with name such as Parenteau, Byrd, Anderson, Sommers, Roumell, Sheppard, Lee and Stan Yee Jr. who still carries on the family tradition in the bright yellow #33.
Stan Yee, Sr. is a fine addition to the Michigan Motor Sports Hall of Fame. He was born May 20, 1932 and died May 18, 2008 just two days shy of his 76th birthday.