Della Woods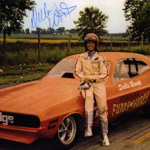 Della Woods of Lake Orion began her racing career at Motor City Dragway in 1964. Women drag racers are rare in National Hot Rod Association (NHRA), but Woods is rare even among her female quarter-mile contemporaries. She drives what's called a funny car. She was one of the first women to do so, a distinction that earned her a number of on-track firsts in the process.
She was the first woman to cover a quarter mile in less than six seconds. She was the first woman to go over 220 m.p.h. in that distance, the first over 230, the first over 240, and the first woman to enter a funny car in a pro event, the 1969 Winternationals at Pomona, California.
She was also instrumental in breaking the NHRA gender barrier for drag-racing's ultra-fast classes. Funny-car driver Paula Murphy was actually the first woman to be accepted - uneasily - by NHRA.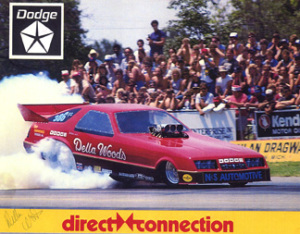 Inspired by Murphy, Della, already racing in superstock classes at Detroit tracks, said "why not?" and applied for the proper license. Her license sponsors included the legendary Don Garlits and Roger "Color Me Gone" Lindamood. She tested for her license at Milan Dragway in early 1968,and passed.
Born in Detroit, Della and her brother Bernie grew up on a farm in Pontiac. Her brother started drag racing in 1964, so Della went with him one time, but decided she wanted to drive and not just help with Bernie's Dodge Charger. She started driving his car in powder puff races and was so good that they let her run against the guys too. Bernie later converted the car into a funny car for Della to run.
Her brother exited drag racing when he married in 1972. Della continued and became associated with De Nichols, who was a General Motors engineer. They married in 1976 and have been partners in racing ever since. De as the chief mechanic and Della as the driver.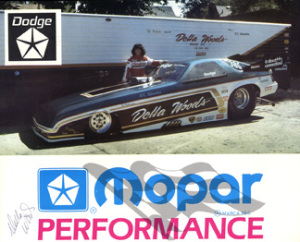 From 1982 until 1985 she was the fastest and quickest female driver in a full bodied drag car. In 1983 she finished 40th in the NHRA Winston World point standings. She moved up to 29th in 1984. That year she won the Olympics of Drag Racing at Great Lakes Dragway in Union Grove, Wisconsin. The next year she finished 21st in the NHRA funny car points. She qualified for five National events. The NHRA sanctioned Keystone Nationals and the Popular Hot Rodding Magazine event as well as three IHRA sanctioned events, the Northern Nationals, Southern Nationals and World Nationals.
In 1985 she became the first woman to make it to the semi-finals in a National event in a AA Funny Car. She was the first woman to break into the five second bracket at 5.95. She registered a speed of 243.56 mph that day at Pomona, California.
Della crashed big time at Firebird Raceway in Phoenix, Arizona on October 10, 1986. About halfway down the track on a run the engine exploded, which sent Della's car into the guard rail at over 200 miles per hour. The bodywork blew off and the car caught on fire. She emerged with massive bruises from head to toe, and suffered a concussion, broken ribs, a bruised kidney, but fortunately her fire suit saved her from serious burns.
She made a comeback the next year and qualified 14th for the NHRA National at Texas Motorplex in 1988. She finished 20th in the final Winston World points. In 1989 Della and De quit racing and bought a pizzeria, but in 1996 they decided to get back into racing when they bought the Chuck Etchell's record holding Funny Car.