Gar Wood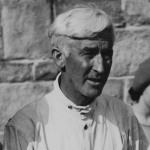 Gar Wood was born in Mapleton, Iowa, on December 4, 1880. He moved to Detroit where started Gar Wood Industries. He was connected with Chris Craft Corp and built Gar Wood Mansion in Detroit. His nickname was "Silver Fox" because of striking white hair. He died in Miami, Florida, 1971
He invented numerous hydraulic hoist devised for the U.S. Navy PT Boat used in WWII. He races many boats including the Miss America Hydroplane. Gar ran hydroplanes out of the Detroit area from 1917 for decades.
RACING RECORDS: HAMSWOTH TROPHY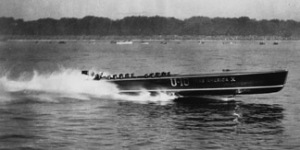 1920 Miss America I (All on Detroit River)
1921 Miss America II
1926 Miss America V
1928 Miss America VII
1930 Miss America IX
1931 Miss America VIII
1932 Miss America X (on Lake St. Clair)
1933 Miss America X (on St. Clair River)
GOLD CUP
1917 Miss Detroit II
1919 Miss Detroit III
1920 Miss America
1921 Miss America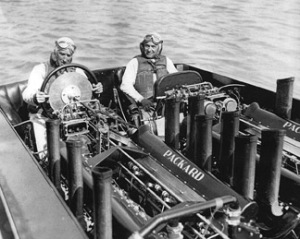 Gar Wood's record for most consecutive APBA Gold Cup wins that stood for 66 years. Long standing point to point and powerboat speed records. Gar Wood died at the age of 90 on June 19, 1971 (1880 - 1971) .