Willam Robert Gillelan III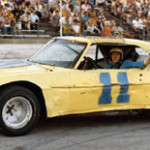 William Robert Gillelan III was born May 1, 1928 in Carlisle, PA. His father moved their family to the Detroit area where Bob began his long, successful Michigan motor sports racing career as a driver, engine builder, and manufacturer.
In the 1950's "Bill" Gillelan spread racing roots hurling his No.299 modified around Michigan tracks such as Motor City Speedway competing in Michigan Modified Stock Racing Association events. His success as a driver was admittedly, limited, because he "crashed too much". His MCS payout stubs attest to having competed in many events with each winnings ranging about $20 to $200. Another stub records a whopping $29 payout to win the pursuit and finish 7th in a 1955 NASCAR Daytona Beach feature event.
While working at Moldex Tool Co. in Dearborn Heights, MI. Bob emerged as a premier high performance engine builder. He put himself on the racing map with a prototype 500 h.p. 4-cam Chrysler engine that landed on the cover of Motor Trend magazine in August, 1957. Chrysler at the time had just increased their 300C HEMI engine to 392 c.i.d. and 375 h.p.
Bob's racing involvement made him aware of needed crankshaft technology improvements. As a result the first Moldex billet crankshaft was manufactured in 1962. He became proprietor in 1965 and transformed Moldex Tool Co., alternately known as "Dearborn Crankshaft", into a nationally renowned crankshaft producer. 'Moldex cranks' are consistently in the winning cars of major racing events and customers include many of the "who's who" in racing but also include racing's 'little guy'.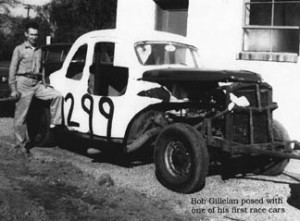 In the mid-1960's "Gilley" teamed up with Joy Fair to run a light blue Ford Falcon late model. Subsequently, with Gilley building engines, Fair driving, and Russell Wainscott chipping in they became the team to beat. The Dearborn Crankshaft school bus yellow cars, flying the No.1 cartooned with Gilley chiseling out a crankshaft, were nearly unbeatable. They won numerous ARCA season championships on their home tracks of Flat Rock and Toledo Speedways during the 1960's and 1970's. They succeeded with a diverse suite of cars, running the usual Fords and Chevrolets, but uniquely others such as a Cavalier, an Oldsmobile and a four-door Maverick. Over 30 years of dominance led ARCA to retire their famed No.1 from competition in 1999.
In 2008 Gilley celebrates his 80th birthday. He lived in Dearborn Heights, MI. He and his wife Nancy has a daughter, Linda. He soldiered on with Moldex Tool, turning out world-class crankshafts for over 45 years. His passion for racing, quick wit, and hard work ethic have led to significant contributions in Michigan motor sports for well over 50 years now, as a driver, an engine builder, and a manufacturer.
Bob died after a short illness at the age of 82 on December 8, 2010 (1928 - 2010).