Roger Wing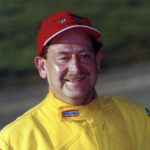 Roger Wing began his racing career driving street stocks. He won his first race at the age of 16 at Crystal Raceway, driving a 1964 F85 Oldsmobile. He then did some drag racing in the Super Stock G Class, he then drove a Sportsman (today's limited late models) on both dirt and asphalt, he drove an open wheel modified on both dirt and asphalt, and he continues to race today, driving a Super Late Model on both surfaces for the past 20 years. Roger is not only the driver, he also the owner, builder and mechanic on his race cars.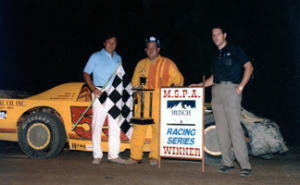 He has raced at the following tracks in Michigan: Onaway, Cherry, Winston, Elmira, Merritt, Dixie, Whittemore, Owendale, Thunderbird, Mid-Michigan Raceway Park, Martin 131 (dirt oval), Dixie, Auto City, Michigan Ideal, Spartan, Galesburg, Berlin, Kalamazoo, Grattan Drag Strip, Ionia Fairgrounds, I-96, Owosso (dirt and asphalt), Tri-City, Mt. Pleasant. He has also raced at: Columbus, Ohio; Angola, Indiana; Mill Stream, (Findlay) Ohio; Santa Fe,
(Chicago) Illinois; Volusia County, Florida; Jacksonville, Florida; Shady Bowl, Ohio; Toledo, Ohio; Mansfield, Ohio. He raced in the Black Label Series and the Busch (MSPA) series. He has won feature races at: Auto City, Galesburg, Onaway, Owosso (both dirt and asphalt), Spartan, Angola, Crystal, Ionia Fairgrounds, I-96, Thunderbird, Martin 131, Merritt, Cherry. Also won features at Dealer's Choice at Crystal, and had fast time six years in a row at Dealer's Choice.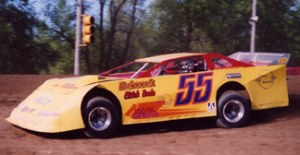 He has set track records at: Crystal, Toledo (at the Glass City 200), Elmira, Winston, Thunderbird. He was voted Sportsman of the Year at Crystal in 1989, and in the MSPA series in 1989. He was voted Michigan's Finest in the MSPA series in 1988 and 1989. He won four track championships in the Sportsman class at Crystal in the mid-1970s to early 1980s. He won three track championships in the Super Late Model class at Crystal in the 1980s. He won a track championship in the Sportsman class at the Ionia Fairgrounds in the early 11s. He won t980s. He won track championships in the super Late Model class at Owosso in 1995, 1999 and again in 2002. Racing partners and associates include Gary Shook, Sr.; Dennis Walker; Gene Evernham; Ray Fricke; Jim Helms; Dan Babcock.
Roger Wing was born on March 15, 1955.