Bill Wiltse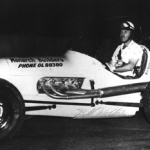 Starting with the open top roadsters in the 1940's Wild Bill Wiltse, a native of Grand Rapids, soon established his position of a feature winner racing against such greats as Tommy Lane (Hall of Famer), Joe Bisocky and Dick Peoples.
When you analyze Wiltse's career, you must take into account that he was a martyr both on the dirt and pavement alike. His career stands out also because of the span of cars that it covered, all the way from roadsters, midgets, jalopies, stock cars, supermodifieds, and sprint cars. Many drivers are a standout in one division, but Bill was a winner no matter what type of racer he drove.
His fellow race drivers nicknamed bill "Mr. Smooth" saying that he could smell trouble and seldom was involved in wrecks. They also watched Wiltse pick out the groove and followed his lead as to where to run on the tracks. Other racers called Bill "A measuring stick" saying that if you could stay with Wiltse, you were hooked up that night.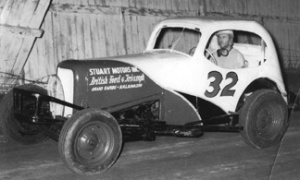 Racing throughout Michigan, Bill also raced in Ohio, Indiana, and Illinois. One of his biggest successes came in Canada at the Warwick Speedway in the middle '50's when he won a brand new car for winning the most features. Other season point championships were won at Berlin, Grand Rapids Speedrome, and Whiskey Ridge near Muskegon.
Everyone judges success by his own standards, but if over 500 feature wins and 98 gleaming trophies are any measure, I would call Wild Bill Wiltse one of the greatest to ever pull a racing helmet on. He was born on June 17, 1923 and died November 5, 1993 (1923 - 1993).