Les Williams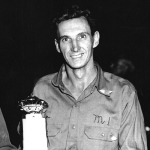 Les Williams was born in Benton Harbor, Michigan in the year 19--. Well nobody really knows except Les. He started watching races and knew he could do that good, so he began his driving career in 1947.
Some of the tracks he raced at are (number of feature wins): Hartford (6), Millburg (5), Sister Lakes (9), Galesburg (37), Kalamazoo (13), Jackson (1), Ionia Fair (5), Grand Rapids Speedrome (1), Saugatuck (7), Bay City, Albion, Lansing, Berlin, Owosso, South Bend (6), Fort Wayne (1), Goshen, New Paris, Illiana, and Pompano Beach, Florida.
Les loved racing on both dirt and paved tracks. He opened his wrecker service and garage in Benton Harbor in 1947 which he still runs every day. He not only raced but was always was there to help out at the tracks with his wrecker.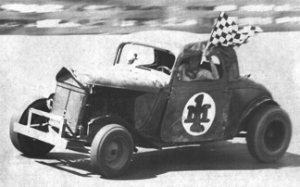 Les has raced many types of cars. They include: Midgets, Roadsters, Hot Rods, Stocks, Modifieds and Late Models. In 1951 & 1952 Les won back-to-back 200 lap races at South Bend Motor Speedway. He always owned his own racecars and a few years he owned a second racecars which other drivers raced.
Les really loved to race and asked if he had a chance to do it today he said, "Just get me a car." Les retired from racing in 1963, but drove in an enduro race in 1985 at Kalamazoo. The enduro car was his own car with his old number (M-1) on it.
Les still drove at Kalamazoo several times to watch the races. He died in 1999.