William Harold Wikstrom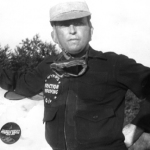 Born August 31, 1917 as William Harold Wikstrom, but known as "Willie Wik" for about 50 years to the racing fraternity. He was born and raised in Indiana, but spent over 50 years of his life in Michigan.
He started racing in 1938 in Western Iowa in a Sprint Car powered with a four cylinder Ford Flat Head. At first he was not a front runner and mostly was a back marker.
In 1940 he started driving Midgets. He drove a Dreyer Ford V8 60. This car would run up front.
In 1948 he teamed with the Cleo Brothers with their Curtis-Craft 255 cubic inch Big Car and ran the AAA Championship circuit. They went to Indianapolis with big dreams and a lot of bravery. The result was a blown engine and an empty money sack. End of big dreams.
Willie came to Grand Rapids and helped start stock car racing. He became the high point champion between running the Grand Rapids Speedrome and Berlin Raceway for the Northern Michigan Stock Car Club. He later went on to be the champion at Harvard Speedway.
In 1951, 1952 and 1953 Willie worked on a crew at the Indianapolis 500. He crewed for Gene Hartley, Len Sutton and Eddie Johnson.
He was working on the crew of Bob Sweikert when he won the Indianapolis 500 in 1955.
Willie Wik's career in racing has spanned some 50 years. Willie died in his sleep on November 5, 2001, the night after attending the Michigan Motor Sports Hall of Fame banquet (1917 - 2001).