Mel Gillett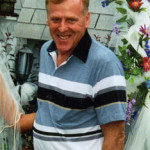 Mel Gillett was born in Howell, Michigan on June 26, 1939. He has lived in Howell all of his life except for three years in the Navy.
Mel started racing Late Models in 1961 on a bet from his brother, and continued racing for the next 18 years. He always owned and drove his own race cars (except for the Super Speedway cars), but he could have done none of this without lots of help from his main crew of Dave Bowers, and Bob and Dick Wilkinson.
Spartan Speedway was the track where he got his feet wet, where he was track champion in 1965. Spartan was his main track until 1968. He then began racing at Jackson Motor Speedway and Owosso Speedway. At Owosso he was one of the first to make the 95 mph club. In the 1970's he raced at Flat Rock and Toledo each week, where he was consistently in the top six in points at year's end. He raced Late Models in invitational races at many different tracks such as Kalamazoo, Galesburg, the Grand Rapids Speedrome, Berlin, Mount Clemens, Auto City, Dixie, Tri-City, and as well at the Ohio tracks of Sandusky, Sharon and Queen City. He also drove super modifieds for a short time at Jackson, Dixie, and Oswego, New York.
In 1966 he raced in the ARCA 250 at Daytona Int'l Speedway and also the Permatex 300 in a car owned by Rod McLean and Air Lift. In 1968 he raced in the Permatex 300 at Daytona in a car owned by Demmer Engineering. John Marcum, the president of ARCA, had faith in Mel and encouraged him to run the super speedways.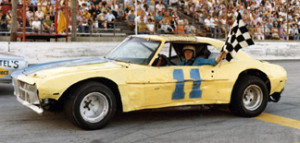 Mel made his NASCAR Grand National (now called Winston Cup) debut at Michigan Int'l Speedway in 1968 with a car owned by Air Lift.
He retired after the last race at Toledo in 1978, because his business required more of his time.

Over the years he had fond memories of racing against the likes of Cale Yarborough, Richard Petty, Bobby Allison, Joy Fair, the Senneker Brothers, Johnny Benson, Joe Ruttman, Gary and Butch Fedewa, and their father Wilson. Wilson helped Mel in many ways.

One of his fondest memories was the time Eddie VanderLaan qualified his car because Mel was at his wife's side, as Susan gave birth to their second son Cale in 1972. It was season championship night and Mel was in second place in points. He arrived at the track just in time to start the feature, and when he got on the track his car had a flat tire. They held up the race until he could get it changed. That's how the racing family works.

He will always treasure the years of racing because of the great friends, good competition, great crew, and the support of his family.

He married Susan in December of 1969. They have two sons. Todd, the oldest was born in 1970.