Bob Andrews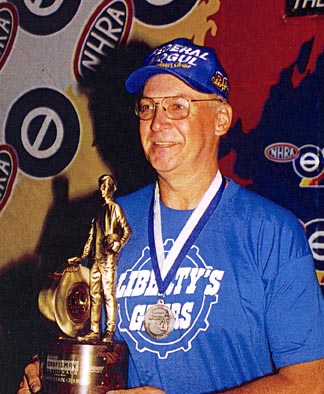 Bob Andrews from Cement City is quite a perfectionist, as most motor sports people are. He just has to do things his own way. whether right or wrong. He must have done more right than wrong to have accomplished all the Drag Racing National Records, Divisional and World Championships, as well as features and heats in dirt oval racing, that he has won. His passion for racing has far exceeded anything else in his life.
Bob started racing a 1965 Chevy in 1967. He won a few trophies with this street car at Milan and Detroit Dragway. It was a 327 c.i. - 4-speed, which ran 14.80's. He did not get serious about racing until after he spent a couple of years in the Army, including a year in Vietnam. Bob has been on both sides of the fence. He drag raced from 1973 until 1983, then he went circle track (dirt style) from 1984 until 1996, before going back to drag racing in 1996. He drag raced until 1999, before he retired from motor sports.
Bob has drag raced in 25 different states, including Canada, and at 51 different dragstrips. His circle racing saw him race in four states at 16 different tracks with six cars. It was hard to keep tabs with what he was doing and when.
In 1971 he bought a 1933 Willys to go drag racing with. He worked on the car for a year or so, then decided that was not what he wanted to race and be serious about it. So he sold it and bought a 1969 Z-28 Camaro and raced it one summer. He didn't do as well as he hoped. So that winter he acid dipped the front sub frame, built rear frame rails, tubbed it for large tires ad put a Dana rear end in it. His one and only race engine he ever bought, the short block came from Ellison Engines in Cincinnati, Ohio and heads came from C.J. Batten Heads in Romulus, MI, From that point on, Bob built all of his own race engines, with help from friends. The first race Bob went to was a points race at Indy. He was so excited he went under the National Record in D/MP, but he never got the record because the late Lee Shepherd set it lower the same day in Texas at another NHRA points race.
That car ran in the D/MP and E/MP classes for a lot of years. He won numerous races at Milan, Tri-City, Kil-Kare and Edgewater, but he never won an NHRA race with the Camaro. Bob took on a partner the last few years he raced the Camaro. His name was Tim Skladanek, He was shop foreman for Batten Heads. They never had great luck, so they sold the Camaro in 1977.
During this period of racing the Camaro, there were a few times that car was broke, so he drove C.J. Batten's G/MP 1969 Camaro at a number of races, and Dennis Eby's 1971 G/Gas Camaro at the Milan,MI IHRA Northern Nationals and the Popular Hot Rod meet at US 131 in 1976. In 1978, Lou Oleynik, who owned a couple of Pro-Stocks, called Bob and asked if he would like the drive the I/Gas Pinto he was about to buy from Bruce Sizemore. Bob and Lou became partners on the 6 cylinder, 1974 Pinto.
They raced the car for four years at mostly NHRA races. They also ran a couple of IHRA National events. The car set I/Gas and J/Gas records six different times to a best of 9.47 at 143 mph.
In 1979 Bob went to Englishtown, NJ for the Summernationals with the Pinto. He won the class title, went back to the motel that night to get ready to run eliminations on Sunday, but the car hauler, race car, every part and tool were stolen at the Holiday Inn. They stored all the parts in the truck so he would have them at the race tracks. Bob was completely wiped out of racing.
The police called a week later, They found the truck completely stripped of all of its contents. Bob put a $5,000 reward in National Dragster for the return of the car. It was such a rare race car. The thieves couldn't sell the parts. Every part of the engine was special made just for that engine. Bob built the engines & the cylinder head himself. It was made from three 351 Cleveland engine heads. He had to cut off the end chambers and and furnace braze them together and then start machining. It was Bruce Sizemore's idea, and he figured it would work on the inline six.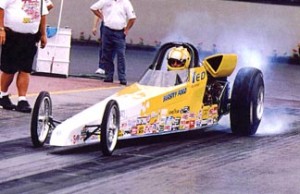 It most certainly did. The Pinto won I/Gas and J/Gas class at every race they entered except one. NHRA did away with Modified Eliminator in 1982, which left the Pinto with no place to run, so Bob quit NHRA in protest. He then bought his first circle track car. It was a cut down Gremlin to run the modified division at Butler. It was a piece of junk that got him hooked on dirt racing. In 1984 he had Ed Cooper build a serious modified. It took a couple of years to get it right, but it was fast and won a lot of races at local tracks. Bob and Jim Slade built two cars together. Bob's first upright modified won the first race that it ran in. The car won numerous times at the start of the 1987 year. Rocky Fisher bought the car, and he won the track championship at Avilla that same year.
Bob went back to driving the Cooper built car. He had a good year, and was leading the modified points at Butler , when a fight with another driver got him suspended for the rest of the year. He never did go back to Butler. He felt he was wronged, and sold that car in 1989. He had won 14 features in the Cooper car.
Long time friend and machinist-engine builder, Chuck Noonan, wanted to buy a dirt late model and asked Bob if he would drive it. They ran the car mostly in Ohio, but they did OK the first year running with STARS and UMP. They won a couple of features and a few heat races. Bob demolished the car in an accident at Eldora. Bob and Chuck then spent a year building a new car. Chuck ended up buying Bob out.
Steve Ambrose, Bob Huettman, and Rey Argenta had a six cylinder dragster just sitting and asked Bob if he wanted to race it, & he agreed to return to drag racing. Bob and some friends spent about three weeks to put the car, engine and clutch assembly together. Bob then had to learn how to run the dragster. At the US Nationals at IRP, he asked Top Fuel's Alan Johnson to build a billet head to match the configuration of the furnace-brazed head. With this new head, Bob set three National Speed and ET records. The fastest being 7.69 seconds at 169.29 mph.
Once they received the new head, Bob built a new short block, installed a new L&T clutch, and received backing from Varsity Ford and Liberty Gears.
Bob qualified in the top half at every race and made it to the finals at two Divisional races, and set two national records along the way. Bob was the first person to run a solid billet Aluminum head on an inline six cylinder and qualified number two at the US Nationals.
His best year was in 1998. He bought another head from Alan Johnson. He built his third engine for the dragster. He traveled across the country starting at Pomona, CA. He then won a division four race at Ennis, TX and a division three race at Cincinnati, OH. At year's end, he not only claimed the division three championship, but with the a good finish in the World Finals at Pomona late in the year, he also won the the 1998 NHRA World Championship in the Competition Eliminator category.
Bob finished his career as the 1999 NHRA Federal Mogul Division Three Comp champ, and won the Sears Nationals in East St. Louis, IL. His last race was at Route 66 near Joliet, IL where he set another record at 7.56 seconds. A record that still stands.
He sold the car at his last race, and bought a new set of golf clubs and a fishing boat. Bob Andrews had done everything he had ever wanted to do in motorsports.