Bill Whittington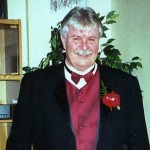 Bill Whittington started racing in 1964 at 17 years old. He was born on October 6, 1946. He originally built his own car and started his racing career at Tri-City Motor Speedway in Auburn, MI. Bill had a few lean years with no wins, but plenty of practice. That practice finally paid off, when in 1969 he won his first race, and that spurred on a career that has spanned through five decades to date. Bill is probably one of few drivers that can say they have won a feature race in five different decades. (1960's, 1970's, 1980's, 1990's, and 2000's)
In the early 1970's Bill met and formed, what has proven to be, a life-long friendship with Bill Wilkie. Bill began driving a "Super-Six" for Wilkie and went on to win three Track Championships (Mt. Pleasant Speedway, Clark's Motor Speedway (I-96), and Owosso Speedway), approximately 24 Features and C.A.R.S. (Continental Auto Racing Society) Hobby Stock Series Championship and Sportsman of the Year. Bill then became involved in Late Models through 1981. He won feature events at Tri-City Motor Speedway, Merritt Speedway, Mt Pleasant Speedway, 113 Speedway (Cherry), and Ionia Fairgrounds. He also won Track Championships at Tri-City Motor Speedway, Mt Pleasant Speedway, Ionia Fairgrounds and 113 Speedway.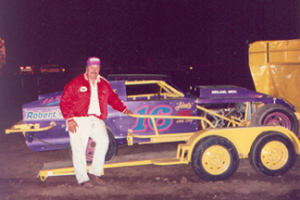 Bill did win the Busch Series feature three years in a row at Standish Motor Speedway. His best Late Model year was 1977 driving for Bob Lingang Sr.. Bill won 26 Features including 11 in a row, with 13 total, at Ionia Fairgrounds. He also had 6 feature wins at 113 Speedway, 5 Feature wins at Mt Pleasant, and Busch Series Features at both Standish Motor Speedway and Crystal Speedway. In the early 1980' s Bill traveled to various tracks in Florida, Kentucky, and Arkansas running both Street Stock and Pro Stock Invitationals.
In 1987 the I.M.C.A. Modifieds came to Michigan. Bill was also instrumental in promoting and raising interest in the "new" class. Bill's friend and cousin, Kim Sandow, became very involved in motor work again in the mid-1990's helping to win Features and a Track Championship while driving a Dodge powered machine. Bill had eight Track Championships in the I.M.C.A. Modified class between Mt. Pleasant Speedway and Merritt Speedway. In 1996, a new Michigan Modified Association (MMA) class was started. Bill has been involved in the MMA class since it's inception to the present. Bill did win the 1998 MMA State Championship (Dirt) at Mt Pleasant Speedway, 1998 First Annual Corn Harvest (Mid-Michigan Raceway Park) and the 2002 First Annual Season Finale (Mt.Pleasant Speedway).
When asked what he is most proud of in his racing career, Bill will tell you is the 12 Sportsman of the Year Awards that he has been given by his fellow drivers. He is honored to know that his peers hold him in that regard. Throughout his career, Bill has amassed approximately 240 feature wins, 13 Track Championships, and 12 Sportsman of the Year Awards. Friends and family, especially his children, regard him as a great driver: Christine Whittington, Caryn (Phil) Stubblefield, Catherine (Brian) Grubb, grandchildren Erica Stubblefield, Lauryn Stubblefield, and Emily Adams.
The racing world lost Bill on January 10, 2021.