Johnny White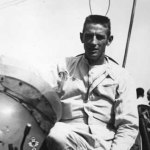 Johnny White was a Warren, Michigan native who got his start in racing on the jalopy circuits of the early to mid 50's. While developing his skill on the eastern Michigan and northern Ohio tracks he always had an eye on higher forms of racing and took every opportunity to drive midgets and sprint cars whenever or wherever he could. By 1955 he drove exclusively midgets and sprinters from Michigan to Florida and many places between.
Johnny White begin interviewed by Carson Zeiter[/caption] Johnny ran with equal skill on dirt or pavement and won many races in midgets and sprints on both type tracks. White was considered an ultra hard charger with the cunning necessary to win in any company. Another side to Johnny was his excellent mechanical abilities. He built several sprint cars and midgets for himself and for others, and his skills at making aluminum tailpieces and bodies were in high demand. Johnny's personality was happy go lucky and he was an incurable practical joker. Many of his stunts and schemes are legendary and are re-enacted from time to time.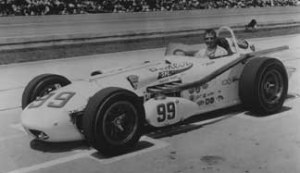 Johnny White drove this upright on USAC dirt track Championship races[/caption] By the early sixties, Johnny White was near the top of the sprint car sport. He won the IMCA championship in 1962 and then shed his outlaw image to concentrate on the USAC Sprint Car trail. He held the half-mile world record at Winchester driving a car of his own making. By this time, the news media referred to him as the "bravest of the brave".
Johnny White finished 4th in the Demler Special[/caption] In '64 Johnny finished 4th in his first Indy 500 and was named Rookie of the Year. Two weeks after the 500, on June 14, 1964 at Terre Haute, Johnny flipped his sprint car off the backstretch. The injuries of this accident ended his driving career and left him almost totally paralyzed. In spite of the tragic injuries at Terre Haute, Johnny White continued his involvement in sprint car racing. With a car given to him by Dizz Wilson, one of his former car owners, Johnny, as car owner, campaigned a sprinter for several years. It is interesting to note that the drivers he selected were three of Michigan's all time greats: Johnny Logan, Nolan Johncock, and Dick Carter. In the late sixties Johnny's health was deteriorating to the point he had to give up his involvement in racing. Johnny White died Christmas Eve, 1977 (1932 - 1977). Johnny was born on January 18, 1932.
SOME OF JOHNNY WHITE'S ACCOMPLISHMENTS
1955 CSRA Championship
1957 AARC Midget Championship
1957 Winner of Anderson Little 500
1962 IMCA Championship
1962 1/2 Mile World Record Holder
1963 Hoosier 100 - Rookie of the Year
1964 Indy 500 - Rookie of the Year
1964 Indy 500 - 4th Place Finish