Chuck White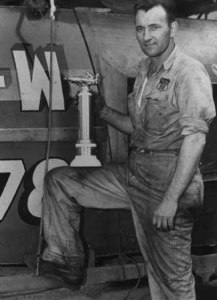 A life long resident of Michigan, Chuck White's racing career began shortly after graduation from high school in 1931. Over the next 38 years, until forced to retire by a heart attack, He would compete successfully as a driver in motorcycles, powerboats, stock cars, micro midgets, and snowmobiles.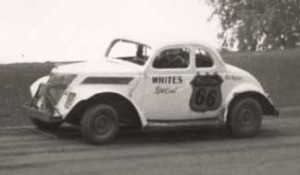 His first love and greatest success came in powerboats winning over seven Michigan State Championships, and two North American Championships. Chuck was the Class "C" winner in the only outboard Gold Cup races ever held (1948 & 1949) and won the International Cup in Toronto in 1949 and 1950. He was elected to Region 6 Outboard Racing Hall Of Fame in 1979.
Perhaps Chuck's greatest source of pride is the recognition he has received throughout his career for the help and encouragement he has given young racers in getting started. Many of whom, including his son Chris, have gone on to become champions in their own right.
Chuck White was still active and builds engines for boats, snowmobiles, mini champs and mini sprints until his death on November 2, 1992.