Ben & Dave Wenzel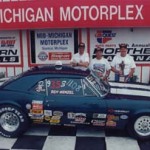 The Saginaw area-based brothers have been Drag Racing as a team, for just about as far back as anyone can remember. First racing at Ubly, Stanton, and Saginaw, they have always ran Chevrolets, and a particular one has been with them since 1967, a '67 Camaro 302. Ben, the driver within the team, and Dave, the expert crew chief, won the 1967 NHRA US Nationals (Indy) Stock Eliminator title with this car. Ben was also awarded the prestigious Car Craft Magazine Stock Driver of the Year for 1967. Even though they raced other cars at points in their career, this car is arguably the most written about, most recognizable, and the most legendary Camaro that ever raced in Stock Category drag racing on a National Level. The brothers and this green race car are synonymous with one another. It gets that way when one races the same car for over 30 years!!!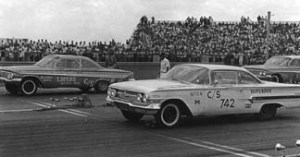 Dave and Ben's first successes came in 1964 with Stock titles at Muncie, Indiana and Norwalk, Ohio. The aforementioned title at Indy was next, which included their individual class title win at that event also. 1968 through 1970 had the brothers setting and holding the national record with the Camaro, and placing well in rounds at a number of events.
In 1972, NHRA changed the Stock rules to effectively adopt a "Pure Stock" format. Most experienced and talented Stock racers abandoned the category for Super/Stock. (This dud experiment of NHRA's failed after 3 season, and NHRA put everything back the way it had been before, in 1975).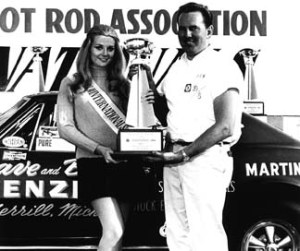 During those years of running in Super/Stock, Ben and Dave won the Super/Stock J class title at the '73 NHRA Summernationals at Englishtown, N.J. and at the '73 U.S. Nationals at Indy. In 1974 they set the NHRA Super/Stock J National record, and won the NHRA World Championship Series points race at the now-departed Tri-City Dragway at Saginaw, Mi. The mid-seventies through the mid-eighties saw the brothers "sitting it out" with family and job responsibilities taking the forefront. The Camaro was brought back out of mothballs as a Stocker one again, and they picked right up where they left off with Ben winning the '87 NHRA WDRS points race at Central Mich. Dragway.