Pete Webster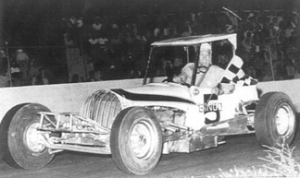 Pete Webster is sort of unique in racing, as he entered the sport as a car owner at age 53 in 1959. Webster probably owes his racing involvement to his oldest son Jack. Along with several other engineering students, Jack owned a supermodified as an extracurricular project. Pete towed the boys' car to B & K and Galesburg racetracks behind his pickup.
When the Engineering Club's racing program broke up, Pete found he missed going to the races, so he bought a supermodified from Johnny Gordenski of Vermontville. This car, carrying the number "Bingo 5", was the master builder's own car, and in the deal Pete also got the driver, Nellie Ward. The team clicked and they were top contenders from the beginning, winning a number of races their first season.
Pete, a toolmaker by trade, maintained his racecars in a well equipped garage at his home on Gull Lake. Throughout his career he was noted for his well prepared, as well as extremely fast, racecars.
Pete's wife was very supportive of the racing effort and kept detailed records of each race, including which of three engines was used. She then transposed this data to graphs that the team used for setting up the car for various tracks and planning for new equipment.
Pete Webster was a racer's type of car owner. For 10 years, through 6 years of age, Pete would put in 40 hour's a week at his job, meticulously maintain and prepare his car, and then tow to the best paying races from Canada to Alabama or New York, week after week. The driver's seat of his cars was highly sought by the top drivers of the era and many drove at one time or another for Pete. Of this illustrious company, the three who drove the most and won the most were Nellie Ward, Sam Sessions, and Johnny Logan. Among them, they brought Pete well over 100 feature victories.
After the 1970 season, Pete sold his racecar, and after 12 years of racing in one of the toughest circuits with outstanding success he retired to his home on Gull Lake where he lives today.