Bill Waddill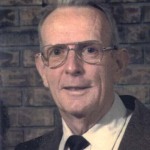 Bill Waddill was born in Herrin, Illinois in 1928. He started a Speed Shop in Flint in 1948 after returning from the service. Started drag racing in 1952 setting many track records across the country. His first record was at the Half Day Drag Strip in Illinois in a 1932 Ford with a flathead engine at 126.5 mph. He set a speed record at the Bonneville Salt Flats in 1953 with a Crosley with a Cadillac engine at 150.5 mph. In 1954 he was hired by Buick Motor Co. as the chief mechanic for the factory car at the Pan American Road Race and was leading at the 3/4 mark when they lost the transmission 12 miles from the point where they could have changed it.
He has built and driven many drag racing cars to many wins in major events across the country. In the mid 50's he started building supermodifieds, racing 5 and 6 nights a week at Auto City, Dixie, Saginaw Fairgrounds, Delaware (London, Ont.), Nilestown, Sarnia, Windsor and Flamboro, Ont. With Lee France, Earl Monroe and Glen Rocky doing the driving, one year his car won the Canadian American Championship.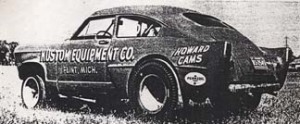 He designed and manu­factured the best racing off road chassis running today called the "Mirage". There are over 500 of these chassis running today in such events as the Baja 500 and the Mint 400. He has built and driven sport cars. In 1962, in a Buick powered Lotus, racing in the Bahamas, he broke a rear trailing arm, lost control, hit a tree, and caught on fire, burning him over 70% of his body, but he recovered. He has been one of the key people in running the M.O.R.R.A., Michigan Off Road Racing Association.
He started the Gear Grinders Club in Flint. He was truly one of the most intelligent mechanics around. Has retired after 24 years as Manager of Technical Services at General Motors Institute. He has had two open heart operations. He has one more goal to complete. It is to run 250 miles per hour at the Bonneville Salt Flats. The car he is build­ing will be ready for testing July 14th at the Flats. Then, in the second week of August he hopes to fulfill his dream in a M.G.A. with 800 hp V-6 Chevy engine. (1928 - 1989)