Don Voisin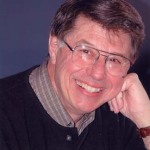 Don Voisin has been a lifelong Michigan resident. Most of his adult life has been dedicated to the sport of power boat racing. Over the past 40 years Don has been involved in virtually every aspect of the sport; driver, race official, referee, boat builder, owner, mechanic and crew chief.
Don was born in August 31, 1945 in Cheboygan, Michigan. He was raised on shores of Mullett Lake, home of the world famous Top O' Michigan Marathon. At the age of 10 he was bitten by the racing bug the first time his father took him to watch the finish of the Top O' Michigan race.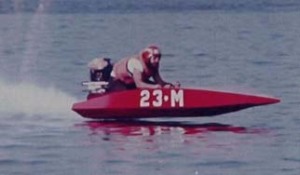 In 1968 Don won his first boat race - the Marathon National Championship race at Trenton, Michigan. Over the ensuing years, he ran up an impressive record, winning races all over the country including in West Virginia, Michigan, New Jersey, New York, Ohio, Wisconsin, Pennsylvania, and Sault Ste. Marie, Ontario, Canada. He set and still holds course records for time at the 1970 Belle Isle Outboard Marathon, 1980 Top O' Michigan Marathon Nationals, and 1972 Columbus, Ohio Marathon. In 1972 and 1973 he won 17 straight marathons. Voisin started his racing career in Class B, and eventually competed in "C" and "D". He won the Belle Isle Marathon nine consecutive years (from 1969 to 1977). Piloting #23, his favorite boat the "Red Sled", he placed first in both "C" and "D" at the Belle Isle Marathon in 1973. His impressive win record also includes the National Marathon High Point Champion in 1968, and 1970 through 1978; National Marathon Champion 1968, 1972 thru 1974, and 1977 thru 1984. Mid-America Cup Marathon Champion 1970 thru 1974; Top O' Michigan Marathon Champion 1970 thru 1978 (there were no races held in 1974 or 1975) and 1980 thru 1982; Short Course National Champion at Sarnac Lake, NY in 1978; and the Belle Isle Outboard Marathon 1969 thru 1977. Don had at least one win in every major marathon run in Michigan once he started racing.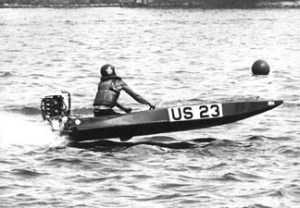 In 1968 he was awarded the James Holden Memorial Award for scoring the most marathon points. That year he also won the David Boyd Memorial Trophy. In 1975 Don was selected as a charter inductee in the APBA Region 6 Hall of Fame. In 1982 he was awarded the Joe Schwartz Memorial award for sportsmanship in helping other drivers. Don retired a winner a the end of the 1982 racing season. He sold all but one boat and went on to become crew chief for his son Vince, who is a racing champion in his own right.
In addition to winning the Top O' Michigan Marathon National many times, Don has been and continues to be an active member of the Top O' Michigan Marathon Association. He was instrumental in taking the race from a 1-day to a 2-day event in 1980, He will serve as Chair of the Classic Division for the 2009 race. Don has served on the insurance committee of the APBA and was elected to the Outboard Pleasure Craft (OPC) Racing Committee from 2001 thru 2006.
In additional to being a race participant, Don chaired the Cheboygan Jaycee 150 mile snowmobile race in 1969 and 1970. He was a driver on the 4th place team in the 1970 I-500 snowmobile race at Sault Ste Marie, Michigan. He was active in the Cheboygan Jaycees and Chamber of Commerce. Since moving to Charlevoix in 1974 Don has served on the Charlevoix Area Chamber of Commerce of Directors, the chair of the Charlevoix County Republican Party, the Charlevoix Rod and Gun Club, the Charlevoix County Economic Development Corporation, the Kiwanis, the chair of the Charlevoix County Jury Board, the Northern Lake Economic Alliance and as chair of City of Charlevoix Citizen's Committee. He was also the 1987 president of the Charlevoix Public Schools Band Boosters Association.
He was elected Chair of the Independent Insurance Agents of Northern Michigan and served on the Board of Directors of Young Agents Division of the Independent Insurance Agents of Michigan.
Don is married to his wife of 40 years, Vicki. They have 2 children, Wendy Jensen, and Vince Voisin. They also have 3 grandchildren, Neil and Sarah Jensen and Sophia Voisin.