Leo Anthony Sr.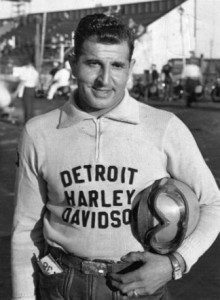 Leo Anthony was a top midwestern dirt-track racer of the late 1930s and 1940s. He won three AMA nationals during his 13-year professional racing career, all on Harley-Davidson motorcycles. Anthony was known as a determined and hard-riding competitor on the track, but was said to have been modest and even a bit bashful about his accomplishments.
Anthony was born in Port Huron, Michigan, on December 15, 1916.
The great Joe Petrali was a rider Anthony looked up to as he was coming through the ranks. In an interview, Anthony once called Petrali the greatest dirt track racer of all time.
Entering his first race in 1934, Anthony quickly worked his way through the amateur ranks, racing around the various dirt tracks of the Midwest. By 1937, Anthony had turned pro and promptly went out and finished second to Lester Hillbish at the Springfield (Illinois) Mile.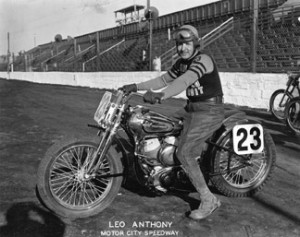 After World War II, Anthony really hit his stride. His best season was 1947. On May 26, he won the AMA five-mile national for half-mile tracks, that year held in Montgomery, Alabama. A week later, in Richmond, Virginia, he earned a victory in the 10-mile national for half-miles. He went on to earn podium finishes that season at the Springfield (Illinois) and Milwaukee Miles, where he took third and second respectively.
Anthony's final AMA national victory came on June 26, 1948, at the three-mile AMA national held in Spencer, Iowa. He continued to race and was a top contender through 1950.
After a 16-year racing career (pro and amateur), Anthony retired from racing. He later was a frequent visitor to gatherings of old-time racers. Anthony died in 1997. (1916 - 1997)
Leo Anthony was inducted into Motorcycle Hall of Fame 1998