Gordon VanderLaan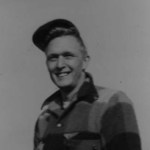 One day he was the king of the hill as far as auto racing goes and the next he was confined to a hospital bed and declared unable to ever walk again. This is the story of Gordon VanderLaan who was a hot shoe during the era of supermodified racing on dirt during the late 50's and early 60's.
This is not only the story of a champion racer but maybe more important it is the story of a man who showed the world that he was a winner in his personal life also. Not many of us could pick ourselves up the way Gordy did.
It was on July 30, 1962 at precisely 1:30 pm that VanderLaan had his body broke in half by a bus that he was working on fall on him in the shop. The doctors took a look at him and declared that he would never walk again and gave him a few years to live before deterioration set in and would prove fatal. But lets go back to 1949 and start at the beginning.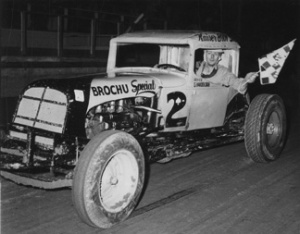 The first stock car that Gordy drove was Bernie Shimells and it wasn't long before he was driving the #2 '32 Ford 2-door (cal­led bathtubs in those days) for Chet Mysliwiec. Before long the #2 was sold to Mike Brochu and a racing bond was formed between the two men that was to last as long as Gordy raced. The car was sponsored by Reliable Motor Supply and they ran it at Berlin Raceway, Owosso Speedway, Tri-City Speedway and Flat Rock.
Jerry Rose owned the super modified that Gordy drove to championships at Berlin's dirt half mile, which boasted that the cream of the modified crop was racing there. If you could win at Berlin in the late 50's and early 60's you were GOOD! And Gordy won with the red Deuce. The team was professional in many ways. The car never showed up at a track without being polished and shined. The crew was dressed in red shirts and white pants.
It didn't take long for VanderLaan to get into the win column as he won the state's longest short track race ever held. It was in 1951 at lonia Fairgrounds when Chet Mysliwiec promoted a 500-lap stock car race on the big half-mile track. People have said that Galesburg's 600 lapper was the longest, but if you compare the difference in track sizes, you will find that the lonia race was the longest.
For a while, Gordy and Mike Brochu teamed up with a sprint car when Mike bought the Burns Offy, which was a stretched midget. They ran with USAC at Dayton, Winchester, and Minnesota State Fair. For a brief period Gordy also drove the Lee Elkins #71 McNamara midget in the USAC circuit.
Gordon VanderLaan had a very successful career winning the '52 Berlin Season Championship, '55 Berlin Season Championship, '56 Berlin Mid-Season Championship, '59 Berlin Season Champion­ship, '60 Berlin Spring Championship and Michigan State Champion­ship.
And of course, the big 500 lapper he won in 1951 at the Ionia Fairgrounds. One of his proudest moments though was when he won a match race against the '49 Indianapolis 500 winner Bill Holland.
Because Gordy was a champion in his heart in addition to being a racetrack champion, he beat the doctor's prediction that he would never walk again.
Gordon VanderLaan was born on July 25, 1928. He died on October 17, 2009. His son Bruce is also an inductee in the MMSHoF.