John Tenney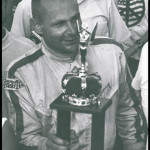 At the very young age of eight years old John would listen to the motorcycle races on the radio, thinking even then that he wanted to make racing his career. When he was a little older, his very good friend Ernie Beckman would take John across different states to watch races on flat tracks.
When John was 13 years old he bought his first bike with his paper money. It was a BSA 125. Mr. Beckman would take John to one hundred mile endurance runs and scramble races, when John was 15 years old he rode in the Jack Pine 500's. John was the youngest rider for two years and finished second twice and fourth and fifth, limited to four hundred riders. At the age of 18 years old he went pro. Riding a BSA 30-50 sponsored by Beckman, at that time Beckman was number two in the USA. In 1955 John won his first pro race at Auto City Speedway in Flint. The next year he won the Michigan State Championship at the Ionia Fairgrounds.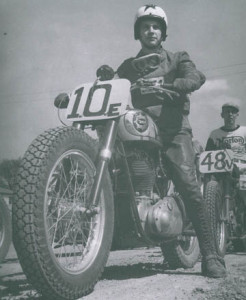 The following year he moved up to the expert class. In 1958 his motorcycle career came to a halt on August 30 when a broken leg in a race at New Bremen, Ohio leading to the Midwest Championship. Two years later John went auto racing, driving stock cars for a short time, then he went on to driving Midget cars. His first midget ride was a Ford 60. In 1961 he moved up to a 110 Offy, and his career took a step forward. He won his first Michigan State Championship in 1963 with five wins. He joined AMRA and USAC and went to Indy to work for Federal Engineering for Bud Tingelstad working there for six years including two years for Gordon Johncock. Tenney swept 13 shows in 1966, setting fast time, winning his heat and the feature. Four of those wins came at Sandusky Speedway in Ohio.
He was asked to drive Coxie Bowman's Ford Falcon powered midget, and if he did well, he was promised he could drive Bobby Grim's Offy. John won everything that 1970 night. The next year John finished third place in AMRA points. He was the Midwest Champ in 1972, winning the championship show at Hartford, Michigan. He lapped all of the other competitors except the second place finisher. He also won the NAMAR sanctioned Winchester 300 in Indiana. On September 3, 1985 his racing career came to an end in an accident that left him with a broken right arm and a broken pelvis. He had to have three operations for his injuries. He raced for 27 years before having to retire.
John died in a house fire on November 6, 2011. (1936 - 2011)