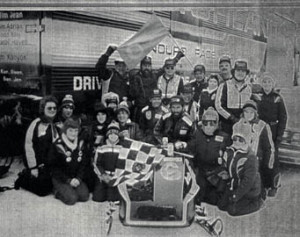 Team Highland
One of the most successful snowmobile teams of all time was Team Highland. It was a group effort spearheaded by their sponsor, Basil Niver of Marion.
The team first appeared in sprint snowmobile races in 1971 with Dave Yarhouse as the pilot of the first of many Artic Cat machines. In 1974 Team Highland won the "Governor's Cup".
At Ironwood in the 1974-1975 season they took a first, second and a fourth. And then at Trout Lake it was two wins and a third. Team Highland then entered the increasingly popular enduro circuit winning at Gaylord, Marion, Houghton Lake and Trout Lake. With drivers Dave Yarhouse, Larry Ransom, and Dan Swiler, Team Highland won their first Michigan State Championship.
In the 1975-1976 season they captured the Alpena Thunder Bay 250 and had seconds at Traverse City and Houghton Lake with drivers Yarhouse, Alan McQuestion, and Rick Marine. The team earned the "Triple Crown" of snowmobile racing and their second straight Michigan State Championship.
The 1976-1977 season produced three more first, this time at Marion, Alpena, Thunder Bay, and Gaylord. They finished second again in the "Traverse City 250". The drivers were Yarhouse, Roger Britt, Dan Hayes and Roger Avram. Yarhouse was injured at Alpena in a crash but again they claimed the State title.
During the 1977-1978 season the team won again at Marion and finished second for the third year in the "T.C. 250" at Traverse City. Dan Hayes, Roger Britt and Roger Avram were their drivers that season as they finished sixth in the final Michigan State points.
Drivers, Britt, Avram and Steve Bilacic won the Motor City Classic in Flint in the 1978-1979 season and finished tenth in the "500 International 500" at Sault Ste. Marie.
Roger Britt and Tom St. John then rode the Team Highland sled to victories in Hudsonville and Alpena Thunder Bay during the 1979-1980 seasons. They also had a couple of seconds along the way and capped the season with a fine third place showing in the prestigious "500". Their fine showing enabled them to win the Michigan State Championship for the fourth time.
For the 1980-1981 seasons St. John and Britt won the Albright Shores 300 and finished sixth in the Alpena-Thunder Bay 250. The next season St. John and Britt again did the driving chore and they won the "T.C. 250" and finished second in the North American Cup at Eagle River, Wisconsin.
Once again St. John and Britt teamed up in the 1982-1983 season and this time they won the North American Cup at Eagle River and again claimed the Michigan State title for the fifth time.
Truly one of the most dominate snowmobile teams of all time, Team Highland, and their famous #6 Artic Cats are most deserving of a place of honor in the Michigan Motor Sport Hall of Fame.