Don Taylor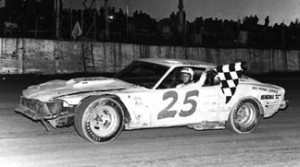 Don Taylor raced from 1964 to 1985 winning 13 track championships in three different classes of cars. Don has somewhere over 150 career feature triumphs.
He raced at Butler and Manchester Speedways winning both track titles in 1969 in the old coupes.
In 1970, he started running popular Late Models and he made the switch in dramatic fashion as he won Butler's late model championships in 1971, 1972, 1973, 1974, 1975, 1977, 1978 and 1979. Seeing his pink, number 25 late model in victory lane became a familiar sight.
In the early 1980's Butler revived the Butler Modified and Don won the track championships in 1983, 1984 and 1985 in the modifieds.
Along the way Don set new track records at Butler, Manchester and Millstream Speedway in Findlay, Ohio.
He won the most improved honors his second year of racing at Manchester. He was Sportsman of the Year at both Manchester in 1968 and Butler in 1973.
Don Taylor won feature races at eight different tracks (Auto City, Bryan Ohio, Butler, Clarke's, Manchester, Merritt, and Spartan). His biggest wins were the "Art Meade 100" at Clarke's Motor Speedway and a MSPA race at Auto City.