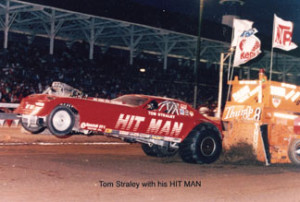 Tom Straley
Tom Straley was born June 18, 1939, in Lansing Michigan. For as long as he can remember, Tom has been obsessed with cars and going fast. Turning that obsession into a career seemed only natural. Building hot rods and engines started early in high school along with machining and welding skills. Early racing included drag racing and street racing in the late fifties. Moving to Freeport, Michigan, and meeting Wayne & Ruth Landon proved to be the turning point to oval track asphalt racing and the beginning of a lifelong friendship. In 1958, Wayne also secured Tom his first ride in a Super Modified at the old Speedrome in Grand Rapids. Tom built the #82 super modified that won the first heat race in which it was entered at Spartan Speedway and many other events in Michigan and Indiana over the next two years. During this time period, he had become a skilled tool and die maker and attended college at Michigan State for a year.
When Tom moved to Florida in 1961, he had no idea that within two weeks he would be working as a field engineer and test driver for the undercover Chevrolet racing program that would be operated out of the Jim Rathmann shop in Melbourne, Florida, and would pass the NASCAR Grand National driving test at Daytona in early 1962 and accumulating many hours and laps around the tri oval. Wayne and Ruth Landon brought his soon-to-be-wife, Mary Jane, to Florida for a 1962 marriage. While operating the NASCAR program at Rathmann Chevrolet, Tom had become acquainted with E.R. Cantrell, who owned the Angels Aviation Racing Team, a sports car team from Zephyrhills, Florida, with a 250 GTO Ferrari, Lotus 23B and the Chevrolet engined Troutman-Barnes car. Moving to this team as Manager and Driver of the Chevrolet powered car was an easy decision especially with new daughter, Debbie, now on the scene. After 18 months of racing all across the USA and Canada as a licensed FIA International driver, Tom bought John Benson's #21 super mod over the phone and moved back to Michigan, Canada, New York (Oswego and the Shangri La Speedway in Owego) and Ohio, with his brother, John, as his mechanic.

In 1965 Tom purchased the property that would become the SRE Inc. Race Engine Building facility. Tom and his wife, Mary Jane, were blessed with a second child, Anthony James (A.J.) in late 1965. Tom acquired the #64 converted Indy Roadster from Laurence Jewell in 1966 and competed on the same tracks until 1969.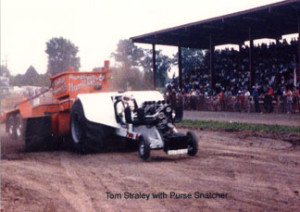 During the next several years, he competed in NHRA drag racing events in the "B Gas" and with a 409 cubic inch Chevrolet Impala. By 1975, he had completed his degree in Business and the race engine shop was going well enough to allow and late model Camaro to be constructed and campaigned.
In 1978, Tom took over the engine program for Scott Baker and the NTPA "Homewrecker" modified pulling tractor, winning two consecutive championships. 1980 was the beginning of a 14 year relationship with NTPA as a multi engine modified tractor driving for the first two years and the next twelve years as the driver of the "Hitman" TWD Camaro funny car. This combination won over 300 events. The "Hitman" Camaro was the only funny car bodied TWD from Michigan to compete on the National Circuit - and was very popular with the crowd. During this time period, Tom also served as an NTPA licensed tech inspector and head Judge at the National events. In 1994, this car was sold to an individual in Maine where it won the State Championship for four years running.
The 1990's brought sadness to the family when A.J. lost his life in an automobile rollover in 1990 and Mary Jane lost a year long battle with cancer in 1993. 1995 brought about a return to open wheel racing in the unfamiliar arena of the "winged spring car" with the SOD Series and the #9S car. After winning the 1995 SOD "Rookie of the Year" with the "half dirt/half asphalt" scenario, Tom chose to go with the asphalt Auto Value Super Spring Series through the 2002 Season.
Tom married his Australian-born wife, Denise, in 1995 and they have a daughter, Megan. With Debbie's children, Amanda and Austin, A.J.'s daughters, Elizabeth and Samantha, the family is growing.
The race shop continued to be very busy with little time left for the extensive travel required for a sprint car, so more time has been devoted to the engine program of the track champion #50 Sportsman car owned by Carl VanZile and driven by his son, Brian, at Kalamazoo Speedway.
Because of his "nomadic" nature, Tom has never claimed a "track championship" or the total feature wins that many other drivers can be credited with, but the satisfaction of being able to compete and win in all types of racing has been very rewarding.