Tim Steele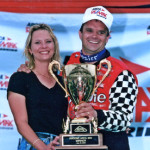 Born in Coopersville, MI on March 1, 1968, Tim is the son of Harold and Marcia Steele. Tim was introduced to motorsports at a very early age by his grandfather and father by working on race cars, competing with go-karts, mini-champs, and motorcycles. If there was ever a natural born racer, it may be said that Tim Steele fits into that category.
Tim entered the 0-14 age bracket for motorcycle ice racing at age 5. In 1981, at the age of 13, Tim finished 2nd in the AMA/125cc class Michigan State motocross championships. In 1984 at age 16, Tim participated in International Jet Ski Racing events. Also that year, he won the NAMRA Champ Cars division championship and was named as the Rookie of the Year.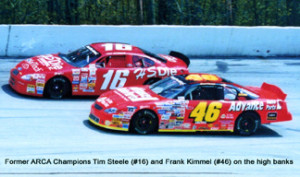 Tim soon found that he was the most comfortable behind the wheel of a stock car. He began racing a late model and recalls his most memorable win came in 1989 at his home track, Berlin Raceway. Tim began broadening his participation to include other racing series and soon found success with victories in ASA at Salem in 1990, and in the NASCAR All-Pro Series at Winchester in 1992.
1992 would also see Tim get his start in the ARCA Racing Series at Texas World Speedway. With his father Harold as car owner and sponsor, the familiar red H&S Die and Engineering #16 from that day forward, has compiled an impressive list of accomplishments; many of which stand unparalleled to this day.
In 1993, Tim would earn the ARCA Rookie of the Year title, and also capture his first championship title. Tim would go on to win the ARCA Series Championship again in 1996 and 1997. He holds the ARCA record of all-time series super speedway winner with a total of 24 victories at Atlanta, Kentucky, Lowe's, MIS, Pocono, and Talladega. Among those wins were 9 victories at Pocono, which still tops the charts. Tim's most memorable victory in ARCA came in 1996 with his first home state win at MIS. He also had victories at Berlin, Winchester, Salem, Kil-Kare, Flat Rock, Pikes Peak, Shady Bowl, and Springfield for 41 total wins in 145 career starts. His 12 wins in 1997 were the most in a single season since 1973. He is tied in all-time ARCA series super speedway poles with 18, and is 2nd on the all-time super speedway lap leader list with 2,316 laps-led inn 50 super speedway races. His ARCA career would also include 86 top-5 finishes, 101 top-10, and 31 career pole awards.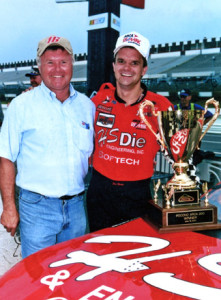 Other notable series competition came in the years 1993, '94, and '97 with 10 starts in the NASCAR Busch Grand National Series, 5 starts in 1994 inn the Winston Cup Series, and 13 starts in 1999 in the Craftsman Truck Series.
Not all of Tim's career was without misfortune. In 1997, just days away from from signing a contract with Robert Yates to race full time in NASCAR's Winston Cup Series, Tim was seriously injured in a crash at Atlanta Motor Speedway. Tim's father Harold and Brett Favre were in the process of purchasing Bud Moore's team and were planning to run for the 1998 NASCAR Rookie-of-the-Year at the time of the crash. Unfortunately, there would be ongoing, residual and personal issues that would plague Tim during the comeback phase of his career. Despite these ongoing struggles, Tim still managed to post 11 of his 41 career victories after the '97 accident.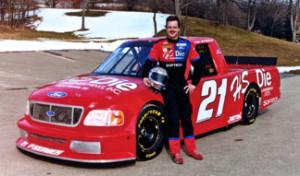 Tim's final ARCA race came in 2006 at Chicago. One year later in the spring of 2007, Tim crashed hard while testing his late model at Toledo. It was at that moment that Tim Steele realized that it was time for him to retire from driving a race car.
Tim resides in Coopersville with his wife Dawn, and daughters Kelsey and Taylor. You can still find Tim at various tracks throughout the country wrenching on cars...not as a driver, but rather as a team owner.