Clare Edward Stader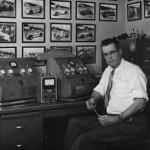 Clare Edward Stader, motion picture projectionist, skilled machinist, inventor, and founder of Stader Timing Service, was born in Morgantown, Brown County, Indiana on March 3, 1903 where he resided until 7 years of age. Along with his brother Floyd K. and parents Charles N. and Alice J. Stader he came by train to Kingston, Tuscola County, Michigan in the thumb area. Later the family moved to Caro, Tuscola County, Michigan when he was 9. His father was a village blacksmith and he and Clare worked with racehorses at the county fairgrounds near the family home and yet Clare never acquired a liking for horses.
In his teens he and his brother left Michigan to seek their fortune and ended up in Florida making orange crates. They returned to Caro the next year. Then he started working at the local motion picture theater and soon became the projectionist there. At that time he acquired membership in the IATSE (International Alliance of Theatrical Stage Employees, a membership he held for over 40 years until the time of his death).
Soon after, he moved to Jackson, Michigan and procured a position at the Regent Theater and later the Capitol Theater as a projectionist. It was at this time he met and subsequently married a co-worker, one Ellen Nora May on May 23, 1923. In 1924 came the birth of a son Jack E and in 1933 a daughter Joyce M was born.
Soon after their marriage he attended Jackson Technical School and acquired his machinist skills. Because of his deep interest of the automobile and his love of auto racing he started a business of timing races that began in 1926. At that time he hardly had the price of admission to a racetrack. To gain entrance he went armed with a stopwatch and clipboard. Soon there was a group of supporting fellow race friends that would serve as starter, announcer, scorer, and pit steward, and they traveled Michigan, Indiana and Ohio together to different fairground tracks and officiated at racing events for open wheel big car racing prior to World War II.
During WWII with his machinist skills he started a small machine shop in the basement of his home. He acquired sublet contracts to manufacture instrument parts for the U.S. Defense Department. It was this same machine shop that he made the timing equipment used by "Stader Timing Service".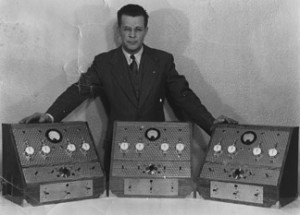 After WWII he perfected this system using the water hose with an air hose across the track connected to a timer that he designed that could qualify more than one car on the track at a time. This was important as with the coming of stock car racing in the Late 40's the growing numbers of race car entrants appearing for a show totaled a hundred or more. A later system Clare designed incorporated the use of a photoelectric eye connected to the timer that could and still does operate either DC (direct current) or AC (alternating current) enabling extreme accuracy of 1/1000th of a second. Along with the timing equipment came the ability of scoring races to determine finishing positions of all cars of a short race of a few laps or a long race of several hundred laps incorporating the use of a tape recorder for long races. Clare's son, Jack Stader a mechanical engineer was very instrumental in the development of the equipment and scoring system that is still being used today.
Clare always had a great interest in photography and with the use of his own dark room and skills produced many superb racing photos.
Not only did Clare officiate at races but he was an avid spectator and fan of racing. He attended all the Indianapolis 500 races from 1925 to 1963 as well as Watkins Glen, Daytona, Mexican Road Race and many, many others.
In December 1963 near Jackson, Michigan, Clare Stader died in an auto accident brought on by a deer.
The Stader Timing Service continued on by his daughter Joyce and husband Marvin Church of Lansing, Michigan until their deaths. Stader Timing Service has officiated at close to 10,000 race dates of automobiles, motorcycles and snowmobiles at over 150 tracks.