Paul Goldsmith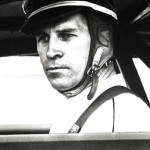 Paul Goldsmith was born on October 2, 1927 in Parkersburg, WV. A few years later his parent moved to Detroit to be closer to the automobile industry. Paul started his racing career riding motorcycles when he was 19 years old. He went on to become the American Motorcyclist Association (AMA) champion in 1952, 1953 and 1954. His first race in the four wheelers was in a 250 miler for stock cars at the Michigan State Fairgrounds in Detroit in 1953, which he won. He then turned most of his efforts to NASCAR and USAC stock cars. He drove for Smokey Yunick until the auto factories pulled out of racing in 1958. He then signed on with Ray Nichels.
He also drove in occasional Indy car races and he finished 5th in 1959 in the Indianapolis 500. He was driving the Demler Special that was wrenched by Ray Nichels. The next year he pushed the yellow Demler car to a 3rd place finish in the 500, his best finish there. He drove in a total of six Indy 500.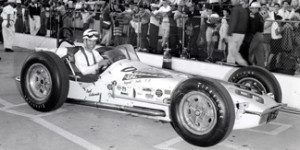 He won 10 USAC stock car races in 1961 and 8 more in 1962 aboard the Nichels Pontiac to become the USAC late model champion both years after finishing 2nd in the standings in 1960. He then moved from St. Clair Shores in 1963 to Munster, IN to be closer to the Ray Nichels operation. By running with an FIA license the Nichels Goldsmith combination also ran many NASCAR GN races from 1962 to 1965 where they campaigned a Plymouth. Paul finished 3rd in the 1964 Daytona 500 after setting a new track record of 174.910 mph.
They then switched to the NASCAR circuit in 1966. He won his first super speedway race at the inaugural "Peach Blossom 500" at Rockingham in 1966. His last race behind the wheel was in 1969. He then became the team manager for Nichels with Charlie Glotzbach as driver, but Goldsmith dropped out of racing after getting stiffed in the fiasco caused by Greek mystery man Chris Vallo in 1972. Paul ranks fifth in all time wins in USAC late model competition with 26 wins behind Don White, A.J. Foyt, Norm Nelson, and Butch Hartman. Paul has also won 9 times on the NASCAR GN circuit. Paul is also the only person to ever win major races at the famous beach course at Daytona Beach racing both motorcycles and automobiles. Major accomplishments:
Was the 1952, 1953, 1954 AMA champion
Won 1953 Detroit 250 for stock cars
Won 1956 NASCAR Langhorne 300 in a Smokey Yunick Chevy
Won 4 races on the NASCAR GN trail in 1957
Won 1958 Daytona Beach NASCAR GN race
Finished 3rd in Indy 500 in 1960
Finished 2nd in USAC late model championship in 1960
Finished 3rd in Daytona 500 in 1961
Won the 1961 & 1962 USAC late model championships
Fast qualifier with a NTR for Daytona 500, FL in 1964; finished 3rd
Finished 2nd in USAC late model championship in 1965
Won Rockingham 500, NC in 1966 (his only superspeedway win)
Won Volunteer 500 at Bristol, TN in 1966
Finished in top five in NASCAR GN races in 11 races in 1966