Russell Snowberger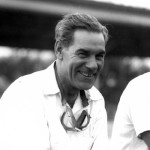 Russell Snowberger drove his first race in 1921 at the fairgrounds at Harrington, Delaware. By the middle 1920's Russ was becoming a consistent winner including the first 100 miler run at Langhorne, PA. In 1927 he joined AAA and was in the starting lineup at Indianapolis in 1928. Snowberger's car was the first one to drop out with mechanical problems but Russ drove relief for Jimmy Gleason and led the race for eleven laps.
Russell continued to run at the Brickyard and drove a Studebaker powered car to eighth place, the highest finishing stock block car, in the field. He took several second place finishes in other AAA races that year. Again in 1929 Russ had the highest finishing stock block car and was awarded sixth place at Indy.
Huppmobile made a deal with Snowberger to install one of their engines in his car. It was with this combination that Russ drove to a fifth place finish at Indy in 1932. With consistent finishes the rest of the season he finished in fourth place in national AAA points the same place he finished in 1930 and 1931. He had also sat on the pole at the Brickyard in '31. The following year Snowberger reverted back to his old Studebaker engine. Late in the year Russ won dirt track races on the half miles at Saginaw and Davidson, Michigan. In 1934 Russell Snowberger captured eighth place at Indy and this was the fifth consecutive year that he finished in the top ten at Indy. He finished the year in third place in the national point standings for AAA. This was also the year when Russ became a charter member of the Champion 100 Mile and Hour Club.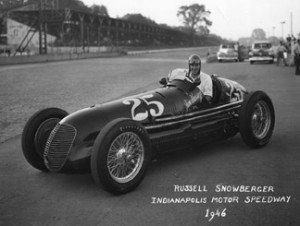 Snowberger secured a ride in one of Mike Boyle's Miller Specials in 1935, but dropped out of Indy. Next it was Joel Thorne, heir to a vast fortune, who beckoned to Russ to pilot one of his cars. He did not make the race however as he hit the wall during practice and was injured. It was in 1937 that Russell and Thorne separated with Snowberger building a new car with a Packard straight eight in it. On lap 66 he retired with a slipping clutch. Snowberger also ran in the Vanderbilt Cup Race in '36 and '37 finishing eighth in '37 along with seventh place at Pikes Peak Hill Climb. He also prepared six winning cars for the Pikes Peak Hill Climb driven by Louis Meyers between 1938 and 1955. It was in 1939 that Russ put his Indy car in the middle of the front row between Floyd Roberts and Rex Mays.
Moving to Detroit sometime after 1935, Snowberger continued to compete with the AAA and at Indy until WWII when he went to work for Rolls Royce inspecting airplane engines. Russ ran again at Indy in '46 & '47 but dropped out both years with mechanical problems. In 1949 Russ Snowberger ran his last race, which was the Pikes Peak Hill Climb. After retiring as an active driver he spent the rest of his career as chief mechanic for the Federal Engineering team out of Detroit. Finally in 1960 Russell Snowberger retired from active competition in his beloved sport of auto racing but remained a fan of racing till his death on September 28, 1968. (1901 - 1968)