Jack Goodwin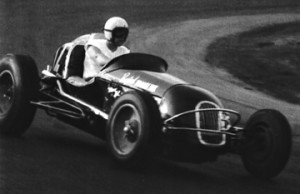 Jack Goodwin once said, "Auto racing has to be fun when it is not it is time to get out."
Jack was born in 1929 in Birmingham, Michigan. He attended grade school in Birmingham, and graduated from Baldwin High School in Birmingham.
Jack started driving racecars in 1946 while still attending high school, and unbeknown to his parents. His first race was in a roadster owned by Joe Mancini of Detroit. Jack won 5 features his first year. (Jack says, "Joe was the best driving teacher in the world at that time".)
Jack has driven every type of oval racecar built, from midgets, stock cars, super modifieds, sprint cars, Indy Cars, to road racecars and new cars.
With co-driver Duane Carter, in 1952, Jack drove in the Mexican Road Race. Jack has won over 500 features at every successful race track in Michigan, plus places like the Mexican Road Race, Darlington, South Carolina, Daytona, Florida on the beach and Super Speedway, Martinsville, Virginia, Schreveport, Lourisiana, and many tracks in New York, Pennsylvania, West Virginia, Ohio, Indiana, Wisconsin, WI, Illinois, Iowa, Minnesota, Kansas, Maine, Texas, and Canada. Jack has won track championships at Michigan racetracks in Flat Rock, Mt Clemens, Flint, Saginaw, Jackson, and Grand Rapids.
At one time while driving modifieds for Ed Bastes, he never lost a race that the car finished, for a total of 119 wins. Jack has driven under such sanctioning bodies as AAA. I.MCA., ARCA, CARS., NNF. , NASCAR, and USAC.
On Mother's Day, May 9th, 1953, at the Jackson Speedway, Jack almost ended his driving career in a bad accident, which left him with 8 steel pins in his head. He broke both shoulder blades, both collar bones, arms, eight broken ribs, a broken hand, wrist, and back. Doctors told the family, the only way that they could save his life was to open his skull and remove a blood clot that had formed on the brain, but this operation had not been done before at the University of Michigan Hospital, in spite of this they agreed to do the operation. Three days later, Jack went home to re cooperate from the operations and injuries. Needless to say Jack survived and came back stronger then ever in his driving career. Think of all these injuries sustained on May 9th, and by September of the same year he was back in a racecar, and went on to drive as much as 8 different programs per week. The only permanent effects from that near fatal crash is he is deaf in his right ear, and the right side of his face is paralyzed.
In 1970 Jack became promoter of the old Wilber Speedway, near Oscoda, Michigan, he changed the name of the track to Raceland, and ran the operation until 1979, when he and wife, Eunice and 2 children moved to Bradenton, Florida, where he opened a garage, and had a very successful business. He enjoyed seeing his old friends when they stopped in at his Goodwin's Foreign Car Repair in Bardenton, Florida.
Jack died in Florida at the age of 85 on March 6, 2015. (1938 - 2015)