Van "Doc" Smalley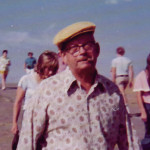 Van "Doc" Smalley was born in Perrinton, MI on Aug. 30, 1919. He married Vera Smith in Edmore, MI on May 9, 1941. Doc and Vera had two sons, Jim and Steve. He was a Veteran of WWII. A Michigan resident all his life, Doc passed away on Feb. 15, 1993, leaving behind a great racing legacy in Michigan.
Doc bought his first race car, a super modified, from Jack Caswell in 1959. Ralph Baker drove it for Doc at Berlin and the Grand Rapids Speedrome from 1960 through 1963.
Doc then changed a sprint car into a super modified, and Dick Carter drove it from 1962 until 1965. Of course older race fans and racers will remember this car as the famous "Whale". Jim Nelson had driven the car at the Knoxville, Iowa Nationals.
In 1966 Art Bennett drove Doc's modified, and it was Doc's first venture using Ford power. It was a 427 that Doc had paid $2,000 for, big money back then. In 1967, Nolan Johncock drove this car for Doc.
Doc got out of racing as an owner for about ten seasons, then came back with a pink and white late model known as the "Pink Panther" #96, driven by Eric Chant.
Doc Smalley will be remembered for many firsts in Michigan racing. He was one of the very first multiple car owners, racing his $64 Question car and his $64 Answer car at the same time. He built one of the first enclosed trailers, one of the first conversion vans, and one of the first piggy back toters, a ramp hauler he named "Running Bear". Doc was one the very first to run a wing on a modified; it was made of plywood.
Doc was fixture in the St. Johns area business community. Over the years at his business he sold boats, ran a gas station, a body shop, and a junk yard. U.S. 27 between St. Johns and Ithaca was his racing "test track".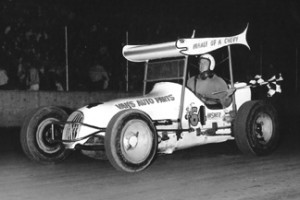 Over the years, Doc's cars won more features that could be counted. His cars raced at Crystal, Ionia, Berlin, Hartford, Toledo, Grand Rapids Speedrome, Oswego, NY, Knoxville, IA, Dixie, Owosso, and many Florida tracks, just to name a few. His cars had track championships at Crystal and Ionia in the same year, and held track records at Berlin, Crystal, and Hartford.
Some of the best-ever drivers in the state drove for Doc: Ralph Baker, Dick Carter, Jim Nelson, Art Bennett, Nolan Johncock, and Cy Fairchild. A "Who's Who" of the list of Michigan Motorsports Hall of Fame inductees.
In spite of all the racing success that Doc had with his race cars in competition, his bigger thrill was in engineering and building them. As many car builders of that era, most of his race cars started out as wrecked cars that were brought to a new life as race cars. Also in spite of the success, it was the man himself that drew people in. He was known for "thee best" after-race pit parties. Who else would fly extra-large women's underwear from their pit flag pole?! When you saw him at the track, English driving cap always titled sideways, the ever-present cigar, you just had to smile.... (1919 - 1993)