Jim Slade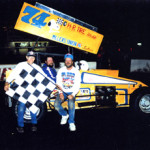 Jim Slade started racing in 1969 and raced until 1996. He won well over 100 feature events in the modified ranks. He had wins at Butler, Manchester, Crystal, Winston, Oakshade, and Bryan. The last two tracks were in Ohio. During the 1981/82/83 seasons he did double duty also driving the Art Braithwaite sprinter. He had two Sprints on Dirt (S.O.D.) feature wins in that car as well as many top five finishes. He has excelled in any car he has ever driven.
He traveled more laps and had more victories in the modified division at Butler Speedway than any other driver in that track's history. He has driven an estimated 28,600 plus laps around the track and an estimated 13,585 plus miles at that track alone.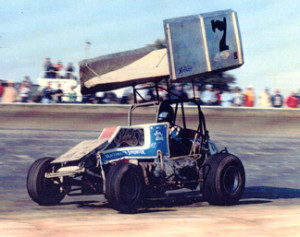 Jim is the three-time "Dealer's Choice" modified champion. He is truly the one that others judge themselves by in the modified ranks around here.
In 1985, he had a season like no other driver had ever started. By mid-July, he had won every single race he was in to that point. Heats and all. He also had set fast time every week.
While leading the feature once again, the transmission rear shaft broke and stayed in the U-joint. It spun around and took muscle, tendon, and a lot of flesh out of his left leg from the ankle to the knee. He was rushed to the hospital and nearly lost his leg. The point to this is that his point lead was so great that it wasn't until the final night of the year that he was finally passed and he finished second after sitting out over half of the year.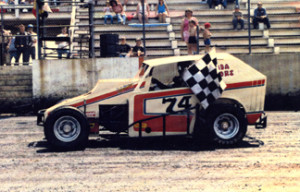 He has won track championships at Butler Speedway nine (9) times, Bryan three (3) times, and Oakshade once. Jim Slade has had a remarkable career in modified racing. His stats would stack up against anyone.
In 2010 Jim Slade was inducted into the Michigan Motor Sports Hall of Fame.