Dick Slade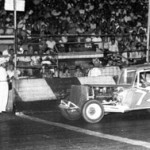 Dick Slade became involved in racing at the age of 18 when he and his brother Ralph purchased a 1937 Ford, which had been setting in a farmer's yard. They raced the car at Jackson Motor Speedway in 1950. In 1951 Dick went into the Army and served three years including a year in Korea.
Dick returned to racing in 1955 at Jackson and Butler Motor Speedway. He raced at Toledo Raceway Park (OH) and at the Adrian Fairgrounds in 1957 as well as at Jackson and Butler.
He later raced at Flat Rock Speedway (MI) and Millstream Speedway and Toledo Speedway in Ohio.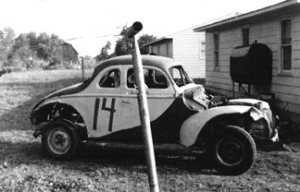 He moved his family to Hillsdale and a job change forced Dick to put racing on hold from 1961 to 1964. When he returned to driving in 1964 he raced at Butler, Manchester Speedway (MI) and Angola Motor Speedway (IN). He later raced at Capital City Speedway and Spartan Speedway, both in Lansing, as well as Avilla, New Paris Speedway in Indiana and Bryan Motor Speedway in Ohio.
Dick Slade's credentials as a driver include track championships at Angola, Butler and Manchester. He won over 75 main events in his 30-year career.
He was the president of the Butler Racing Club for several years. He always built his own cars and assembled his own engines. He was most noted for the six cylinder engines, which he used for so many years, racing and winning against the V-8s. Dick was also one of the first drivers to use a powerglide transmission.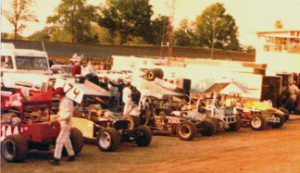 Dick retired from driving in 1982, but not from racing as he and his son Jim built a new modified in 1984 and raced this car at Butler, Bryan, Oakshade Speedway (OH), and Avilla. Over a period of ten years they won nine track championships and over one hundred features. Dick has been instrumental in his three son's (Jim, Jerry and Eric) racing careers as well as nephews (Mark and Ralph) and several friends.
Probably the biggest contribution to racing that he made, was to prove that you can be a budget racer and still be a winner if you are willing to work at it.
Dick resided in Jackson, Michigan until his passing on March 2, 2021.