Joan Simmons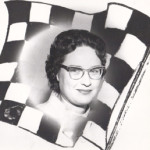 Joan Simmons was born in Detroit on January 16, 1930, and remained in the Detroit area until moving to Florida in 1992. She died at her home in Florida on September 2, 2005.
Joan was married to Figure-8 legend and MMSHOF member "Lil Richard" Simmons. She was also the mother of racer Billy Simmons.
Joan came to racing through her husband, "Lil" Richard," and ultimately became more involved in the sport than just being a supportive wife and mother. No, much more than that, Joan Simmons became a pioneer in Michigan auto racing and was involved in the sport for well over 30 years with 20 of those being in the promotional end of racing.
Joan was the first lady promoter in the State of Michigan and possibly the entire country. In 1950, Joan organized and raced in the Michigan Powder Puffs. This daring group of women raced at the old Motor City Speedway and at Flat Rock Speedway. Don't let the term lady racers fool you, as she and Gladys Hood raced against and beat the men racers at Flat Rock Speedway.
From 1952 - 1959, Joan worked as a secretary for D.A.R.E. Racing Association with Jack Goodwin, and beginning in 1956 also worked with Andy Barto at Flat Rock Speedway with only a short hiatus in 1954 for the birth of her son, Billy.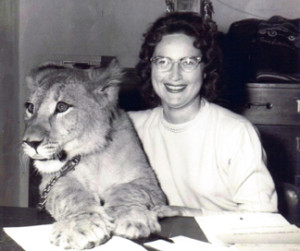 In 1960, Joan took over the promotional reins of the then failing Flat Rock Speedway where she designed a point system for deciding season champions, increased the car count, and also increased track attendance by 81 percent. Joan would stay on as General Manager of Flat Rock Speedway after John and Mildred Marcum came on board in 1962 up until 1970, where she tended to the day-to-day operations of the speedway for ARCA. During this period, Joan also became a licensed USAC promoter, establishing the Figure-8 races at Flat Rock, and was the General Manager at the State Fairgrounds Speedway working with Pete Spencer, and became the first woman to become a licensed wrestling promoter.
Joan led the way in promotional ideas to help increase attendance way back in the early 1960's by holding non-racing events at the speedway. Joan brought in her pet lion and things like wrestling, and circuses in order to bring non-racing fans to the track, thus increasing fan awareness and creating new fans of racing. Joan could always be found out front at the speedway welcoming the fans and then later heading on down to the pits to thank the drivers for being there and encouraging them. There was no job that was beneath her at the speedway and she did them all, including un-blocking storm drains after a storm so the track could dry to get the show in.
Joan had a wonderful career in Auto Racing all the while being the wife and mother of two successful racing drivers. While Joan's presence may be gone, her contribution to the sport will not be forgotten. (1930 - 2005)