Johnny Gordenski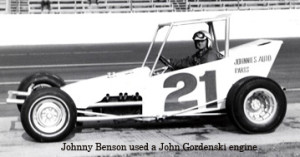 Johnny Gordenski was born in New York State and as a young man became a stand out motorcycle racer. Before the onset of WW II he had won the New York State Expert Division flat track championship two times.
After the war Johnny was discharged from the service in California, where he remained and became involved in auto racing, both as a driver and mechanic.
In the late '40's Johnny moved to Vermontville, Michigan where his brother lived and started an auto body shop.
By 1950, Gordenski had a '39 Ford Coupe, which he raced, throughout the state. In his first year he established himself as one of the drivers to beat wherever he ran.
During the early fifties, Johnny's reputation as an engine builder had many of the top racers coming to Vermontville for their motors. His talent for getting power and reliability out of flat head Ford and Chevy six cylinders was second to none.
During this time, Johnny relinquished his driving duties to Nellie Ward as his engine and chassis building business flourished and grew.
In 1955, the same year it was introduced, Johnny began using the Chevy V-8 as a racing engine. Johnny's mechanical talents were not wasted on this power plant. The Bingo 5 car dominated short track racing and in fact won the 500-lap race at Galesburg. This car was later sold to Johnny Benson of Grand Rapids who won many races with it, and started him using the Chevy V8 as a racing engine.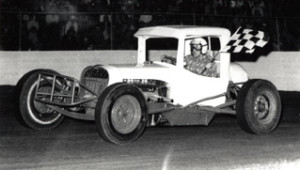 By 1957 Johnny's reputation as an expert engine builder and chassis builder found him phasing out his body shop work and equipping his shop with specialized machines and equipment to keep up with the demand for his racing business. Johnny ran his shop until the early 1970's when he quit racing and became a tavern owner and operator in Vermontville.
During his years in racing, Johnny did work for many of the top runners spanning a 25-year period. He is known not only for his ingenuity and craftsmanship but also for his willingness to help others, even though they were competitors.
Johnny Gordenski was a leading innovator, a hard worker, a businessman with integrity and a helping friend. His ideas were copied by many and many of his innovations are still used today.