Bob Senneker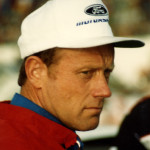 If a short track late model racing legend ever came out of Michigan it would certainly be Bob Senneker. Bob has been one of the top late model drivers in the nation for nearly two decades. The Grand Rapids native started racing a Ford at the old 1/4 mile paved track in his hometown called the Speedrome in 1963. In 1964 he switched to a 1955 Chevy and his natural ability and smooth driving style became his trademark.
He would go on to capture track championships at the Grand Rapids Speedrome, Berlin Raceway, Kalamazoo Motor Speedway, and Tri-City Motor Speedway, in the 1960's. He is one of Michigan's most prolific winners in the past 25 years and has amassed about 500 feature wins.
In 1966 he ran the newly paved Berlin Raceway and was their late model champion in his 1957 Chevy. He would repeat the next two years.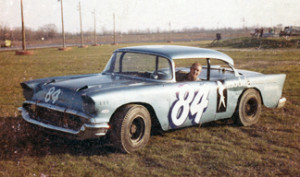 He ran super modifieds in 1966 and ran consistently up front. He caught on quick in the fleet supers until he flipped the car. He immediately retired from open wheel racing.
Senneker went big time racing in 1968 by entering the "Daytona 500". His crew built a 1966 Chevelle. Bob finished 13th, in the home built car. Later that year he won a 100 lapper at Heidelberg Raceway near Pittsburgh for one of his first out of state wins. He also won the Michigan State Championship at Berlin.
He started the 1970 season by winning a 150 lapper at Heidelberg in his Chevelle. He also won the 3rd annual Glass City 200 at Toledo by two laps.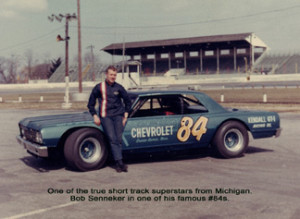 Bob ran weekly at Heidelberg in 1971 as well as hitting the big money shows. Later in the year he won the Goodyear 250 at Cayuga in Canada. Among his titles in 1972 was the US Stock Car Champion at Ohio's Tri-County track.
Bob began running a Camaro in 1974 and was a consistent winner as he won about 40 races from New York to Missouri. He started his first American Speed Association race and promptly won the Dri Power 400 at Winchester, Indiana. Since then he has won over 50 ASA shows and leads that mid-west sanction in races won.
Bob teamed up with Ed Howe in 1975 and was nearly unbeatable. Some of his big wins included another Winchester 400 and the Howard Williams Memorial in Toledo. He ran Howe's new NASCAR late model sportsman car at Martirisville, Virginia and was running in the top five when he was crashed out the race.
Bob won 21, features in 1976 including his 3rd straight Winchester 400. He won 28 features in 1977 including still another Winchester 400, and the Salem 300. Driving one of his fabled "Bluebirds" Bob won 24 features in 1978 including six ASA races including the first Milwaukee 150, a 300 lapper at 1-70 in Missouri, and the Winchester 400. He cut back his heavy weekly racing schedule and concentrated on the big specials in 1979. He only won five features, but they included one ASA race and an ARTGO race. He also tried his hand at promoting as he operated Hartford Motor Speedway that year.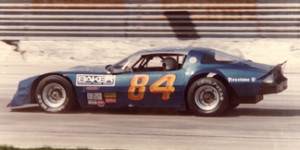 In 1980 he won 15 features including five ASA wins and ended up 2nd in ASA points. His wins included the Cayuga 300, the Anderson 300, the Minnesota State Fair 300, and the Queen City 300.
Bob won the All-Pro sanctioned Birmingham 200 in Alabama in 1981. He won 10 other features that year including five ASA events including another Milwaukee 150, and the first ever ASA race at Michigan Int'l Speedway.
He won seven ASA events in 1982 including his biggest win to date, the "All-American 400" at Nashville. Again racing in primarily ASA shows he won six features in 1983. In 1984 he won 10 ASA races but lost the title at the last race when he was crashed. He limited his traveling to only ASA races and won only once in 1985. His only ASA win in 1986 was at Cayuga.
Bob Senneker has to be rated as one of the best drivers that have ever called Michigan his home state. He certainly is one of the most deserving individuals that was ever be inducted into the Michigan Motor Sports Hall of Fame.