Bob Seibert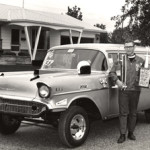 Bob Seibert was born in Detroit on July 26, 1942, and has lived in Michigan his entire life. His drag racing exploits began in 1964 with a friend, Matt Martino. They competed with a 1956 Chevy in the G/Hot Rod class at local dragstrips like the non-departed Motor City Dragway near New Baltimore, Michigan, winning many Hot Rod eliminator titles on the weekends. Bob then purchased a '57 Chevy Sedan Delivery which was to have become the new tow vehicle for the '56 race car. Bob changed the plans on that decision, and the '57 Sedan became instead Bob's new race car. This car also was involved in creating Bob's newfound passion for inline six-cylinder engines, which would continue throughout his future racing successes. At this time, Bob's wife Judy's tow brothers, Jerry and John Bugenski, had bought a GMC 6 race engine from Tom Langdon of the "Hole Shot 6" fame.
Jerry and John had been running his engine in another '57 Chevy at the Southeastern Michigan dragstrips. When Jerry was drafted into the Army, Bob then bought out Jerry's share of the engine, and he and brother-in-law John formed their legendary partnership with Bob as driver, and John in the role of expert crew chief. The sedan delivery got a makeover of a fiberglass tilt front end, and a then-popular straight front axle. The car was raced locally at Lapeer, Milan, and Tri-City in the J/Gas class, winning frequently and setting a number of individual track records.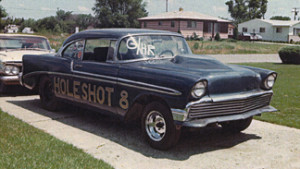 With Bob having joined the Army Reserve in 1966, this prevented the team from running many of the desirable NHRA national events and divisional point meets until about 1972, when he completed his active duty. However in 1970, Bob and John did manage to find the chance to compete in the NHRA U.S. Nationals at Indianapolis Raceway Park, with Bob scoring a J/Gas class championship runner-up at their first venture into the NHRA National scene. In 1971 the '57 sedan delivery was retired, and a much more modern and successful '68 Camaro was then competed by the team in the same class, J/Gas. This car was campaigned for only one season, high lighted by the J/Gas class championship at the 1971 NHRA U.S. Nationals, and then during the winter of '71-'72, the "little gold terror" was constructed. It was a 1972 Vega Hatchback, and much of the race chassis construction took place at "The Chassis Shop" where Wayne Gapp and Jack Roush were building new Pro Stock drag cars, as well as two new Pinto-bodied Pro Stockers that were being constructed for Bob Glidden. In it's first season, the Vega with Bob at the wheel, was the J/Gas class champion at both the NHRA SpringNationals in Columbus, Ohio, and the U.S. Nationals at IRP. With the arrival of the 1973 season. Bob and John were able to finally compete a full season schedule, as Bob had now met his military duty. They and the "the little giant killer" did that year what they knew they could do with a full race schedule.
Class winner at all of the following NHRA National events: GaterNationals at Gainesville, Florida; SpringNationals at Columbus, Ohio; SummerNationals at Englishtown, NJ; and again at the U.S. Nationals at IRP. They set and re-set the National record for J/Gas three times that year, ending with a 1/4 mile of 12.55 seconds at 109.09 mph. However, at the Rockford, Illinois Gas Coupe and Sedan meet in 1973, they uncorked a 12.27 with the little inline six Vega, which netted them the #1 qualifier spot (based upon how much quicker a car can run in comparison to it's individual class index), and Bob won the event. They also won two special Modified Eliminator events at Kil-Kare Dragway in Ohio that year, and won one and runner-upped at another at Cincinnati's Edgewater Park Dragway. As if this all wasn't enough for a first full season, Bob also won two NHRA Division 3 point meets at Columbus and Cayuga, Ontario, and took the Division 3 Modified Eliminator overall point championship title. Bob was also voted the Sportsman Driver of the Year award for Division 3. At season's end, they did earn a berth to compete at the NHRA World Finals at Amarillo, Texas, losing in the second round.
1974 found Bob and John continuing with the head of steam that had built up in 1973's stellar season. Class wins were taken at the following NHRA National events: GatorNationals, SpringNationals, SummerNationals, SportsNationals U.S. Nationals, and they qualified for the LeGrandNationals in Quebec. While not repeating their Division 3 Modified point title, the team finished 4th in points for the season, winning one point meet at Cayuga, Ontario. However, this season provided them with an accomplishment level they had yet to attain, winning the NHRA National event Modified Eliminator title! Bob enjoyed it so much, he decided to win two. The next year, Bob and John scored wins at the GatorNationals and the SummerNationals. NHRA had also altered the weight-break structure in Modified that year, having added more classes, and the Vega had a new class designation of N/Gas, but weighing the same. With continued massive research and development on the "antique" four main bearing GMC "stovebolt" inline six, with it's many hand-machined one-of parts, such as the innovative rocker arms, Bob and John kept destroying the National class record to 12.31, then 12.26, running a 12.05 in the final round when Bob won the SummerNationals.
1975 found Bob in another stellar, winning season. The car received a facelift with a newer and swoopier Vega front end, a new color of red, and a completely new lettering scheme. Bob had class wins at the SpringNationals, SummerNationals, SportsNationals, U.S. Nationals, LeGrandNationals, and a class runnerup at the GatorNationals. He had qualifying positions of #1, and no worse than #5 at all of these events, and finished well in all as well as winning yet another national event, the Modified Eliminator title at the SummerNationals at Englishtown, New Jersey, and qualifying #2 in the World Finals at Ontario, California. Along with being awarded the best appearing sportsman car for NHRA Division 3, Bob and John also won the NHRA Division 3 point meet at Edgewater Park in Ohio, and captured the Division 3 Modified season point championship once again! This was the Vega's last year, but before the season's end, they had also reset the N/Gas record 3 times, 11.83 @ 113,78 mph, 11.76 @ 114.50 mph, and 11.55 @ 117.18 mph. The final performance register of the car was an 11.47 at a non-record event. Much of this performance gain was due to the development of a new cylinder head in conjunction with C.J. Batten Competition Heads. When they started with the GMC six in the Vega, the record had been in the high 13's, and they ended up knocking on the door of the 10 second zone, twisting nearly unbelievable rpms out of this "old truck engine", with fans witnessing many hapless, higher class V-8 cars, unsuccessfully chasing down the fleeing little six on a handicap start race.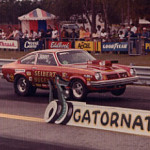 Bob and John went a completely new direction in 1976, with and inline-six Pinto, in which the engine was based upon the more modern 300ci Ford. Bob won the J/Gas class title at the GatorNationals, running 10.38 @ 130 mph. This was Bob last season as driver, and John continued to race the Pinto himself for some seasons after.
Bob eventually moved from Sterling Heights to Shelby Township, retired from GM in 1997, and he and his wife Judy have a daughter and granddaughter. John is now a Master Plumber in Royal Oak. The drag racing onslaught of Seibert and Bugenski was only ten years, but they accomplished more in those years than many racers manage in a lifetime.