Henry Banks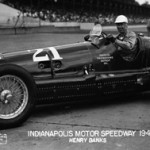 Born in Surrey, England, June 14, 1913, the Banks family immigrated to Edmonton, Alberta, Canada when he was six months old, then to the USA in 1922, finally locating in Royal Oak, Michigan. He had come from a racing family; his father, William, drove cars in racing events in Europe in 1904-08 and was, at one time, a member of the French Dietrich Racing Team. In the early part of his racing career, his father assisted him in AAA events including the first appearances at the In­dianapolis Motor Speedway.
His first racing experience was in 1932 when he drove a Model A Ford Miller Scholfield sprint car for Mert Harris of Royal Oak, Michigan in outlaw and AAA events in Michigan and Ohio. Henry crashed in first race at Bay City, Michigan and won his first race at the age of 19 at Davidson, Michigan, two weeks later. Henry was a consistent winner for the balance of the outlaw season. Applied for AAA license in the fall of 1932 and was dubbed, "King of the Outlaws", by Eddie Edenburn, then Detroit AAA zone representative. Finished third behind Bob Carey and Gene Haustein in the first race at the old VFW Speedway in Detroit.
Banks first regular job was driving test cars for the Oakland Pontiac Motor Company at the General Motors proving grounds at the age of 20, while driving racecars on weekends. He quit the job to devote full time to racing in 1936.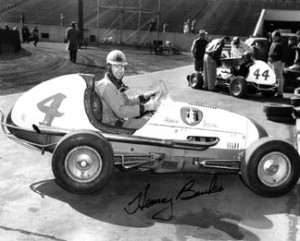 Henry first entered the Indianapolis 500 mile race in 1936 driving the DePalma Miller Special owned by Louis Kimmel, a Royal Oak, Michigan theatre owner. He was first alternate starter at the speedway that year and was actually the first driver to take the newly inaugurated rookie test at Indianapolis. Banks won several championships in midget racing which included the Eastern ARDC championship in 1941, driving for Mike Caruso, his teammate Bill Schindler finished 2nd. Banks was second in the AAA National Midget Championship in 1950.
During WWII, Henry was employed by the Aircraft Engine division of Ford Motor Company who were then building R-2800 aircraft engines under license of Pratt & Whitney. The next step for Banks was to become resident representative for the company on the West Coast.
After World War II, returning to racing full time, Henry drove midget racecars for Lindsey Hopkins who after the 1950 Indianapolis race pur­chased for him one of Lou Moore's Blue Crown cars. This was Banks first year to run the full Championship trail. He started picking up top 5 finishes and won the Detroit race in front of his hometown crowd. As each race on the Championship trail was run, Banks cut down the point lead of the leaders until the final race of the year at Darlington, S.C. Banks was now 37 years old and realized that not too many years of opportunity remained to be National Champion and at the checkered flag.
Henry had to beat out Walt Faulkner, nicknamed the "Little Dynamo", in Agajanian's car, for his beloved championship. Banks was the first driver in AAA history since Peter DePaolo to win the national Driving Championship without benefit of points earned in the Indianapolis 500 Mile Race. In 1951, he finished second to Tony Bettenausen who dominated the National Championship Circuit that year, by consistent finishes in the top 10 in 11 of 13 races.
On May 22, 1954, Henry Banks hung up his racing helmet for good, went back to Ford's Aircraft Division, supervising 7 states. In 1959, the USAC Board of Directors hired Banks to take the position of Director of Competition for the United States Auto Club (USAC). It was a clear vote of confidence in Bank's ability that he was asked to run the club.
Henry Banks died at the age of 71 on December 18, 1984 (1913 - 1984)