Bob Seelman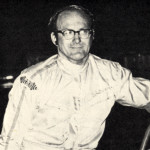 Bob's involvement in racing began in Oklahoma in 1957 as a member of a drag racing team. After returning to Michigan in early 1958, he became a part of another drag race team with owner/driver Larry Jewett of Mason.
Bob's interest in oval track racing came about in 1959 when he helped owner Joe Beech and driver Howard Metzmaker with their modified. He began driving himself in 1960 after building his own modified, with the help of fellow driver Harry Chapman, in Chapman's garage.
Bob was a regular competitor at Lansing Speedway, Capital City Speedway, Dixie Motor Speedway, Galesburg Speedway, Grand Rapids Speedrome, Berlin Raceway, Toledo Speedway, Sandusky Speedway, Delaware Speedway (London, Ontario), and Oswego Speedway (Oswego, New York).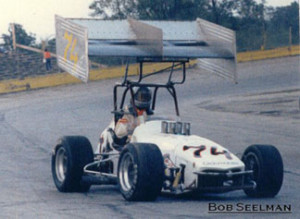 He competed in his first 'Little 500' (Anderson, Indiana) in 1966, driving a sprint car owned by Dick Hamilton of St. Johns. He has competed in the 'Little 500' 12 times to date, sitting on the pole in 1979, and finishing in the top ten four times: eighth in 1978; second in 1979; third in 1980 and 1984.
Bob made his first of many trips to Phoenix International Raceway in October 1970. He set fast time of 30:00 flat (a new track record) almost half a second faster than the next qualifier a time which would have put him in the middle of the Indy car field.
In 1964 Bob lost the point championship at Dixie Speedway by one point to Wayne Landon. He was leading in points at Delaware Speedway (Ontario) in 1972 when the super modifieds were suddenly discontinued. He was the 1975 point champion at Sandusky Speedway (Ohio) and was second in points there in 1979.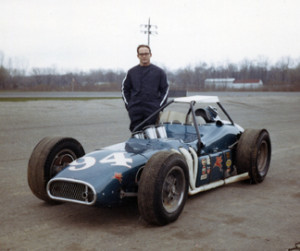 One of Bob's most memorable feature wins came at Langley, British Columbia in 1972. He had taken the roadster to the Pacific Northwest to compete in the International Drivers' Challenge. He won the 100 lap feature the hard way without a wing against all winged roadsters. They said it couldn't be done, but Bob proved them wrong! He won a 100 lap feature at Spanaway, Washington in 1973 a winged sprint against West Coast super modifieds. He finished second in another 100 lap feature three nights later at Western Speedway in Victoria, British Columbia.
Bob has raced USAC Sprint cars and ASA stock cars. He has over 60 feature wins to his credit. His racing career has taken him to all four corners of the United States racing at more than 75 tracks in 21 states and two Canadian provinces and is not done yet.