Mick Schuler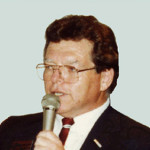 Mick Schuler attended his first race at the old Jackson Fairgrounds in the 1950's and he got the bug that continues through today. In the mid 1960's, he accepted his first announcing position at the Kalamazoo Speedway where he stayed (with the exception of four years while promoting races in Oklahoma and Texas) until October of 1996 where he entered semi-retirement due to health reasons. Mick continued with the same passion for motor sports as he had in his early days at Jackson.
During the years Mick was one of a very sought after announcer in the Midwest. He was the track announcer at Crystal Raceway, Owosso Speedway, Spartan Speedway, Jackson Motor Speedway, Butler Motor Speedway, Hartford Speedway, Ionia Fairgrounds, Michigan Ideal Speedway, Mottville Speedway, I-96 Speedway, M-40 Motorsports Arena, the Kalamazoo Fairgrounds and of course Kalamazoo Motor Speedway. He has been guest announcer at Berlin Raceway, Auto City Speedway, Dixie Motor Speedway, US 131 Raceway, the Pontiac Silverdome, Sandusky Speedway (Ohio), Wilmot Speedway and Hales Corners Speedway (Wisconsin), and Salem Speedway and Avilla Speedway (Indiana).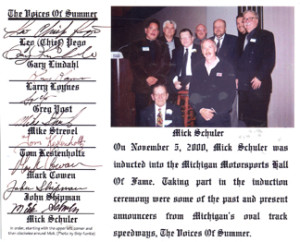 By the mid 1970's, Mick talents as a marketing/public relations director got him even more involved in the sport that he loved so much. Over the last 30 years he has either co-promoted, promoted or been general manager of Kalamazoo Motor Speedway, the Kalamazoo County Fairgrounds, TRI-Sac, Galesburg Speedway, Mottville Speedway, and M-40 Motorsports Arena, all in Michigan. He spent three years out west, promoting Altus Speedway, Sooner International Raceway, both in Oklahoma, plus Hi-Way 16 Raceway in San Antonio, Texas. During his leadership, attendance at all of these tracks increased greatly.
Also, during this same 30-year period, Mick has excelled as a photographer and columnist (Wide Angle) with the MARC Times Racing News.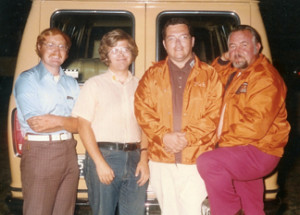 Schuler was the father of two daughters, Julie and Kelley (who heads up the scoring at Kalamazoo Speedway).
The "Chubby Little Pronouncer" was very deserving of induction into the Michigan Motor Sports Hall of Fame.
Sadly, Mick died in 2004. (1944 - 2004)