Carl Scarborough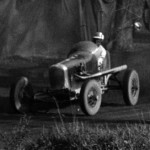 Carl began racing in 1939 at the age of 25. He remained on the racing circuit every summer except 1948 and 1949 due to a severe passenger car accident.
He drove a number of various tracks here in Michigan. He strictly drove midgets and sprints. A few of the tracks he frequented are: Owosso, Jackson, Motor City Speedway, and Milford Fairgrounds. He also drove in a number of other states.
The first title Carl won was in 1941. It was the Ohio State Dirt Track Crown. Then in 1946 he became the first man in history to win both National Midget and Big Car titles of the Central States Racing Association. At this time he was driving a sprint car owned by Mert Harris of Royal Oak, MI.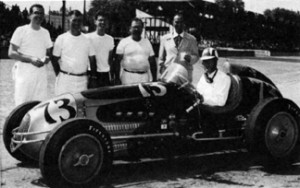 In 1951, Carl drove the McNamara Special, owned by Lee Elkins at the Indianapolis Motor Speedway. He held the track record, at 135.614 miles per hour, for five hours before being broken. He was sidelined in the 248th mile while running in 7th place. He was awarded 18th place. He also drove at the Speedway in 1952. He started on the inside of the 7th row but had to drop out due to mechanical difficulties.
In 1953, Carl qualified and drove again in the Indianapolis 500. This time the outcome was disastrous. The day was extremely hot, and he became dehydrated. Due to a number of complications during the race he lost his life. He had offered all he could during his adult life to auto racing, until at the age of 37 there was no more to give. (1914 - 1953)